Transport manager has 'explaining to do'
14th February 2008
Page 25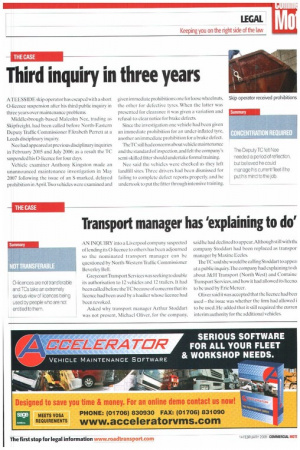 Page 25, 14th February 2008 —
Transport manager has 'explaining to do'
Close
AN INQUIRY into a Liverpool company suspected of lending its 0-licence to others has been adjourned so the nominated transport manager can be questioned by North-Western Traffic Commissioner Beverley Bell.
GreycourtTransport Services was seeking to double its authorisation to 12 vehicles and 12 trailers. It had been called before the TC because of concerns that its licence had been used by a haulier whose licence had been revoked.
Asked why transport manager Arthur Stoddart was not present, Michael Oliver, for the company, said he had declined to appearAlthough still with ilk company Stoddart had been replaced as transpor manager by Maxine Eccles.
TheTC said she would be calling Stoddart to appeal at a public inquiry.The company had explaining to ch about J&H Transport (North West) and Containe: Transport Services, and how it had allowed its licenet to be used by Eric Mercer.
Oliver said it was accepted that the licence had beer used — the issue was whether the lirm had allowed i to be used. He added that it still required the curren interim authority for the additional vehicles.