Back in business
14th February 2008
Page 16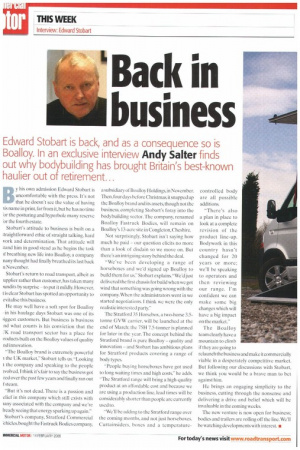 Page 17
Page 16, 14th February 2008 —
Back in business
Close
Edward Stobart is back, and as a consequence so is Boalloy. In an exclusive interview Andy Salter finds out why bodybuilding has brought Britain's best-known haulier out of retirement...
By his own admission Edward Stobart is uncomfortable with the press. It's not that he doesn't see the value of having us name in print, far from it, but he has no time 'or the posturing and hyperbole many reserve or the fourth estate.
Stobart's attitude to business is built on a Araightforward ethic of straight talking, hard vork and determination. That attitude will ;tand him in good stead as he begins the task )1 breathing new life into Boalloy, a company nany thought had finally breathed its last back n November.
Stobart's return to road transport. albeit as upplier rather than customer, has taken many nindits by surprise — to put it mildly. However, t is clear Stobart has spotted an opportunity to evitalise this business.
He may well have a soft spot for Boalloy in his haulage days Stobart was one of its liggest customers. But business is business nd what counts is his conviction that the .11( road transport sector has a place for ,roducts built on the Boalloy values of quality rid innovation.
"The Boalloy brand is extremely powerful i the UK market," Stobart tells us. "Looking t the company and speaking to the people wolved. I think it's fair to say the business got red over the past few years and finally ran out f steam.
"But it's not dead. There is a passion and chef in this company which still exists with tany associated with the company and we're [ready seeing that energy sparking up again." Stobart's company, Stratford Commercial 'ehicles, bought the Fastruck Bodies company, a subsidiary of Boalloy Holdings, in November. Then,four days before Christmas,it snapped up the Boalloy brand and its assets,though not the business, completing Stobart's foray into the bodybuilding sector. The company, renamed Boalloy Fastruck Bodies, will remain on Boalloy's 13-acre site in Congleton,Cheshire.
Not surprisingly, Stobart isn't saying how much he paid — our question elicits no more than a look of disdain so we move on. But there's an intriguing story behind the deal.
"We've been developing a range of horseboxes and we'd signed up Boalloy to build them for us,Stobart explains."We'd just delivered the first chassis for build when we got wind that something was going wrong with the company. When the administrators went in we started negotiations. I think we were the only realistic interested party:' The Stratford 35 Horsebox, a two-horse 3.5tonne GVW carrier, will be launched at the end of March; the 75H 7.5-tonner is planned for later in the year. The concept behind the Stratford brand is pure Boalloy — quality and innovation — and Stobart has ambitious plans for Stratford products covering a range of body types "People buying horseboxes have got used to long waiting times and high costs," he adds. "The Stratford range will bring a high-quality product at an affordable cost and because we are using a production line, lead times will be considerably shorter than people are currently used to.
"We'll be adding to the Stratford range over the coining months, and not just horseboxes. Curtainsiders, boxes and a temperature controlled body are all possible additions.
"There's also a plan in place to look at a complete revision of the product line-up. Bodywork in this country hasn't changed for 20 years or more; we'll be speaking to operators and then reviewing our range. I'm confident we can make some big changes which will have a big impact on the market."
The Boalloy team clearly have a mountain to climb if they are going to relaunch the business and make itcommercially viable in a desperately competitive market. But following our discussions with Stobart, we think you would be a brave man to bet against him.
He brings an engaging simplicity to the business, cutting through the nonsense and delivering a drive and belief which will be invaluable in the coming weeks.
The new venture is now open for business; bodies and trailers are rolling off the line. We'll be watching developments with interest.
Boalloy
Based in Congleton, Cheshire, the company was formed in the 1970s. In 1983 the then managing director Gerald Broadbent patented the Tautliner body and is widely acknowledged 8is the inventor of the curtainsider.
In 1988 ownership passed from Broadbent and fellow directors Jeff Browning and Brian Abrams to Marling Industries; in 1992 the management team led by Gerry Brown and Jim Gibb acquired the company from Marling.
In November 2006 Boalloy Industries was bought by JMF, a little-known steel fabrication company from Co Antrim, Northern Ireland. Boalloy went into administration on 15 October 2007.
Edward Stobart
Edward Stobart built up Eddie Stobart Lt from a local firm delivering fertiliser to Th best-known haulier in the UK, running ma than 1,000 trucks and with a fan club of ovi 25,000 people.
Edward Stobart has been involved wi road transport throughout his working life. 2002 he sold the haulage company to \A Developments; since then he has been livir in Stratford —theoretically in retirement...