Whitbread plans to outsource logistics
14th February 2008
Page 10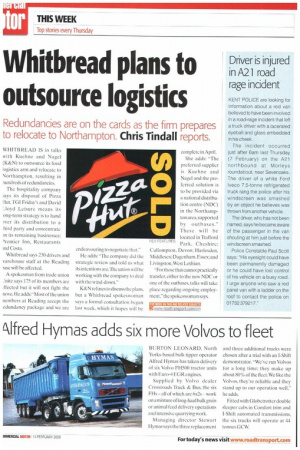 Page 10, 14th February 2008 —
Whitbread plans to outsource logistics
Close
Redundancies are on the cards as the firm prepares to relocate to Northampton. Chris Tindall reports.
WHITBREAD IS in talks with Kuehne and Nagel (K&N) to outsource its food logistics arm and relocate to N'orthampton, resulting in iundreds of redundancies.
The hospitality company iays its disposal of Pizza Ilut.TGI Friday's and David Lloyd Leisure means its orig-term strategy is to hand wer its distribution to a hird party and concentrate m its remaining businesses: 'remier Inn, Restaurants tnd Costa.
Whitbread says 230 drivers and varehouse staff at the Reading iase will be affected.
A spokesman from trade union _Irate says 175 of its members are :ffected but it will not fight the nove. He adds:"Most of the union nembers at Reading accept the edundaney package and we are endeavouring to negotiate that."
He adds: "The company did the strategic review and told us what its intentions are.The union will be working with the company to deal with the wind-down."
K&N refuses to discuss the plans, but a Whitbread spokeswoman says a formal consultation began last week, which it hopes will be complete in April.
She adds: "The preferred supplier is Kuehne and Nagel and the preferred solution is to be provided via a national distribution centre (NDC) in the Northampton area, supported by outbases." These will be located in Trafford HEX FEATURES Park, Cheshire; Cullompton, Devon; Harlesden, Middlesex; Dagenham, Essex; and Livingston, West Lothian.
"For those that cannot practically transfer, either to the new NDC or one of the outbases, talks will take place regarding ongoing employment," the spokeswoman says.