Bid to Double Coach Allowance
14th February 1958
Page 43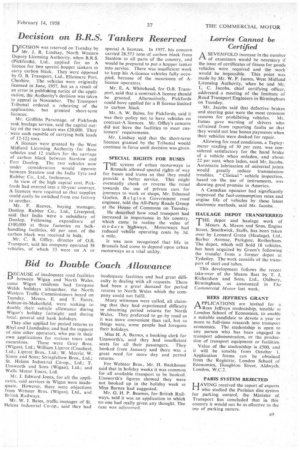 Page 43, 14th February 1958 —
Bid to Double Coach Allowance
Close
BECAUSE of inadequate road facilities -UP between Wigan and North Wales, some Wigan residents had foregone Welsh holidays altogether, the North Western Traffic Commissioners heard on Tuesday. Messrs. E. and T. Eaves, Ashton-in-Makerfield, were seeking to double their vehicle allowance during Wigan's holiday fortnight and during local, general and bank holidays.
They also applied for period returns to Rhyl and Llandudno and had the support of nine other operators, who put in their own applications for various tours and excursions. These were Gray Bros. (Wigan), Ltd.; William Liptrot (Coaches), Ltd.; Liptrot_ Bros.. Ltd.; W. Morris; W. S:rnm and Sons; Stringfellow Bros., Ltd.; St. Helens Industrial Co-op.,. Ltd.; T. Unsworth and Sons (Wigan), Ltd.; and Walls Motor Tours, Ltd.
Mr. J. Edward Jones, for all the applicants. said services in Wigan were inadequate. However, there were objections from Webster Bros. (Wigan), Ltd., and British Railways.
Mr. W. J. Bates, traffic manager of St. Helens Industrial Co-op., said they had inadequate facilities and had great difficulty in dealing with all requests. There had been a great demand for period returns to North Wales which the company could not fulfil.
Many witnesses were called, all claiming that they had experienced difficulty in obtaining period returns for North Wales. They preferred to go by road as it was more convenient than rail, but as things were, some people had foregone their holidays.
Miss H. A. Barnes, a booking clerk for Unsworth's, said they had insufficient seats for all their passengers. They booked from January and there was a great need for more day and period returns.
For Webster Bros., Mr. H. Backhouse said that in holiday weeks it was common for all available transport to be booked. Unsworth's figures showed they were not booked up in the holiday week is Miss Barnes had suggested.
Mr. G. H. P. Beanies, for-British Railways, said it was an application to which no one had really given any thought. The case was adiourned.