News of the Week
14th February 1947
Page 26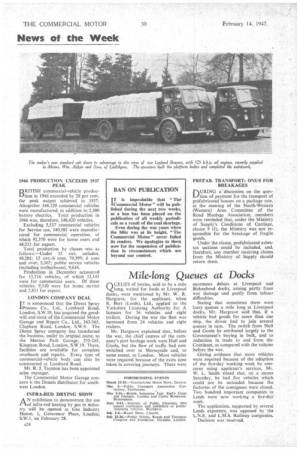 Page 26, 14th February 1947 —
News of the Week
Close
1946 PRODUCTION EXCEEDS 1937 PEAK
R IT ISH commercial-vehicle produc1--ition in 1946 exceeded by 28 per cent. the peak output achieved in 1937. Altogether 146,120 commercial vehicles were manufactured, in addition to 2,300 battery electrics. Total production in 1.946 was therefore. 148.420 vehicles.
Excluding 5,537 commercial vehicles for Service use, 140,583 were manufactured for commercial operation, of which 92,370 were for home users and 48,213 for .export.
Total production by classes was as follows:—Under 15 cwt. unladen, 48,201; 15 cwt.-6 tons, 79,399; 6 tons and Over, 3,367; public service vehicles (including trolleybuses), 9,616.
Production in December accounted for 13,216 vehicles, of which 13,141 were for commercial users. Of these vehicles. 9.310 were for home service and 3,831 for export.
LONDON COMPANY DEAL
IT is announced that the Direct Spray Process Co., Ltd., Lombard Road, London, S.W.19, has acquired the goodwill and stock of the Commercial Motor Garage and Repair Co., Ltd., 363-365, Clapham Road, London, S.W.9. The Direct Spray company has transferred the business, under its original name, to the Merton Park Garage, 255-265, Kingston Road, London, S.W.19, There, facilities are available for complete overhauls and repairs. Every type of commercial-vehicle body, can also be constructed at Lombard Road.
Mr. R. J. Taynton has been appointed sales manager.
The Commercial Motor Garage concern is the Dennis distributor for southwest London.
INFRA-RED DRYING SHOW A N exhibition to demonstrate the use ..(-1.of infra-red heating by gas in industry will be opened at Gas Industry House, 1, Grosvenor Place, London. SW. I, on February 28.
PREFAB. TRANSPORT: ONUS FOR BREAKAGES nURING a'discussion on the ques1--Ition of payment for the transport of prefabricated houses on a package rate, . at the meeting of the North-Western (Western) Area Committee of the Road Haulage Association, members were reminded that, under the Ministry of Supply's Conditions of Carriage, clause 9 (J), the Ministry was not responsible for the breakage of fragile goods.
Under the clause, prefabricated asbestos sections could be included, and, therefore, any member receiving claims from the Ministry of Supply should return them.