One Hears
14th February 1947
Page 25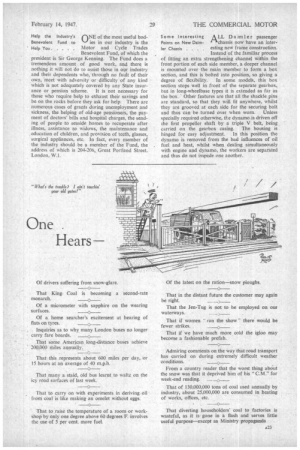 Page 25, 14th February 1947 —
One Hears
Close
Of drivers suffering from snow-glare.
That KingCoal is becoming a second-rate monarch. 0 Of a micrometer with sapphire on the wearing surfaces.
Of a. home searcher's excitement at hearing of flats on tyres.
Inquiries as to why, many London buses no longer carry fare boards. 0 That some American long-distance buses achieve 200,000 miles annually.
That this represents about 600 miles per day, i'or 15 hours at an average of 40 m.p.h.
That .many a staid, old bus learnt to waltz on the icy road surfaces of last week.
That to carry on with experiments in deriving oil from coal is like making an omelet without eggs.
That to raise the temperature of a room or workshop by only one degree above 60 degrees F. involves the use of 5 per cent. more fuel. Of the latest on the ration—snow ploughs.
That in the distant future the customer may again be right.
That the Jen-Tug is not to be employed on our waterways.
That if women " ran the show' there would be fewer strikes.
That if we have much more cold the igloo may become a fashionable prefab.
Admiring comments on the way that road transport has carried on during extremely difficult weather conditions. 0 From a country reader that the worst thing about the snow was that it deprived him of his "C.M." for week-end reading.
That of 130,000,000 tons of coal used annually by industry, about 25,000,000 are consumed in heating of works, offices, etc.
That diverting householders' coal to factories is wasteful, as it is gone in a flash and serves little useful purpose—except as Ministry propaganda