MORE LONDON BUS AGREEMENTS
14th February 1936
Page 48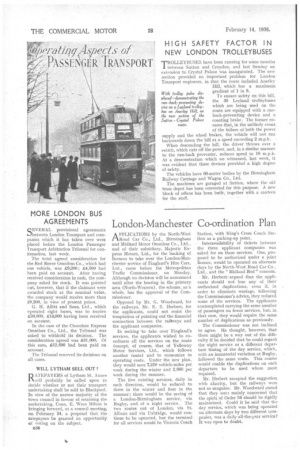 Page 48, 14th February 1936 —
MORE LONDON BUS AGREEMENTS
Close
SEVERAL provisional agreements between London Transport and companies which it has taken over were placed before the London Passenger Transport Arbitration Tribunal for confirmation, last week.
The total agreed consideration for the Red Rover Omnibus Co., which had one vehicle, was £9,200; £4,500 had been paid on account. After having received consideration in cash, the company asked for stock. It was pointed out, however, that if the claimant were awarded stock at the nominal value, the company would receive more than £9,200, in view of present prices.
G. H. Allitt and Sons, Ltd., which operated eight buses, was to receive £36,000, £14,000 having been received on account.
In the case of the Chocolate Express Omnibus Co., Ltd., the Tribunal was asked to withhold its decision. The consideration agreed was £31,000. Of this sum, £12,600 bad been paid on account.
The Tribunal reserved its decisions on all cases.