Air Transport News
14th February 1936
Page 36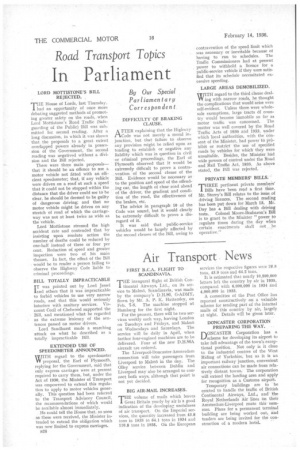 Page 36, 14th February 1936 —
Air Transport News
Close
FIRST B.C.A. FLIGHT TO SCANDINAVIA.
THE inaugural flight of British Con
tinental Airways, Ltd., on its service to Malmo, Scandinavia, was made by the company's D.H.86, G-ADMY, flown by Mr. A. P. K. Hattersley, on Feb. 7-8. The machine stopped at Hamburg for the first night.
For the present, there will be two services weekly each way, leaving London on Tuesdays and Fridays, and Malind on Wednesdays and Saturdays. The service will be daily in April, when further four-engined machines are to be delivered. Four of the new D.H.86A aircraft are ordered.
The LiverpoolDoncaster-Ams terdam connection will take passengers from Liverpool to Malmo in the day. The 011ey service between Dublin and Liverpool may also be arranged to connect both ways, although that point is not yet decided..
BIG AIR-MAIL INCREASES.
THE volume of mails which leaves Great Britain yearly by air is a good indication of the developing usefulness of air transport. On the Imperial services, the quantity increaSed from 43.8 tons in 1933 to 64.1 tons in 1934 and 110.8 tons in 1935. On the European services the respective figures were 28.8 tons, 43.9 tons and 64.2 tons.
It is estimated that nearly 10,500,000 letters left the country by air in 1935, compared with 6,000,000 in 1934 and 4,000,000 in 1933.
A committee of the Post Office has reported constructively on a valua.ble scheme for sending part of the internal mails of this country by air, largely at night. Details will be given later.
DONCASTER CORPORATION PREPARING THE WAY. • .
DONCASTER Corporation has a scheme for developing its airport to take full advantage of the town's exceptional position. Not only is it close to the industrial centres of the West Riding of Yorkshire, but as it is an important railway junction, convenient air connections can be made from relatively distant towns. The corporation will extend the landing area and apply for recognition as a Customs airport.
Temporary buildings are to be erected to handle the traffic of British Continental Airways, Ltd., and the Royal Netherlands Air lines On their Amsterdam-Liverpool route this summer. Plans for a permanent terminal building are being worked out,. and tenders are being invited for the construction of a modern hotel.