Barrister Suggests Deputation to Minister
14th February 1936
Page 34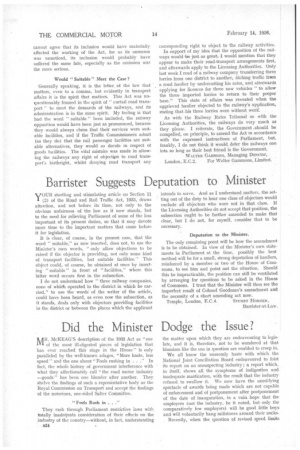 Page 34, 14th February 1936 —
Barrister Suggests Deputation to Minister
Close
YOUR startling and stimulating article on Section 11 (2) of the Road and Rail Traffic Act, 1933, draws attention, and not before its time, not only to the obvious unfairness of the law as it now stands, but to the need for relieving Parliament of some of the less important of its present duties, so that it may devote more time to the important matters that come before it for legislation.
It is clear, of course, in the present case, that the ward "suitable," as now inserted, does not, to use the Minister's own words, "only allow objections to be raised if the objector is providing, not only some kind of transport facilities, but suitable facilities." This object could, of course, be obtained at once by inserting " suitable " in front of "facilities." where this latter word occurs first in the subsection.
I do not understand how "three railway companies, none of whicth operated in the district in which he carried," to use the words" of the writer of the article, could have been heard, as even now the subsection, as it stands, deals only with objectors providing facilities in the district or between the places which the applicant intends to serve. And as I understand matters, the setting out of the duty to hear one class of objectors would exclude all objectors who were not in that class. If the Licensing Authorities do not accept that position, the subsection ought to be further amended to make that clear, but I do not, for myself, consider that to be necessary.
Deputation to the Minister.
The only remaining point will be how the amendment is to be obtained. In view of the Minister's own statements in Parliament at the time, possibly the best method will be for a small, strong deputation of hauliers. reinforced by a member or two of the House of COmmons. to see him and point out the situation. Should this be impracticable, the position can still be ventilated by arranging for questions to be asked in the House of Commons. I trust that the Minister will then see the imperfect result of Colonel Goodman's amendment and the necessity of a short amending act now.
Temple, London, E,C.4. STUART HORNER, Barrister-at-Law.