Unprincipled Methods in Railway Competition
14th February 1936
Page 32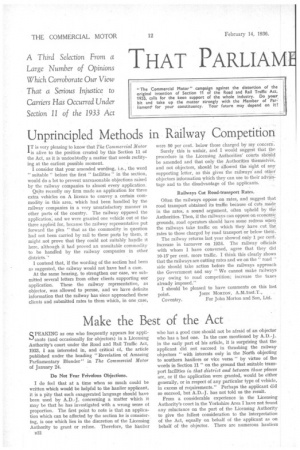 Page 32, 14th February 1936 —
Unprincipled Methods in Railway Competition
Close
T is very pleasing to know that The Commercial Motor L is alive to the position created by this Section 11 of the Act, as it is undoubtedly a matter that needs rectify
ing at the earliest possible moment. • I consider that your amended wording, i.e., the word " suitable" before the first " facilities" in the section, would do a lot to prevent unreasonable objections raised by the railway companies to almost every application.
Quite recently my firm made an application for three extra vehicles on A licence to convey a certain commodity in this area, which had been handled by the railway companies in a very unsatisfactory manner in other parts of the country. The railway opposed the application; and we were granted one vehicle out of the three applied for, because the railway representative put forward the plea "that as the commodity in question had not been carried by rail to these parts by them, it might not prove that they could not suitably handle it here, although it had proved an unsuitable commodity to be handled by the railway companies in other districts.''
I contend that, if the wording of the section had been as suggested, the railway would not have had a case.
At the same hearing, to strengthen our case, we submitted several letters from other clients supporting our application. These the railway representative, as objector, was allowed to peruse, and we have definite information that the railway has since approached these clients and submitted rates to them which, in one case,
were 50 per cent. below those charged by my concern.
Surely this is unfair, and I would suggest that the procedure in the Licensing Authorities' courts shOuld be amended and that only the Authorities themselves, and not objectors, should be allowed the sight of any supporting letter, as this gives the railways and other objectors ingormation which they can use to their advantage and to the disadvantage of the applicants.
Railways Cut Road-transport Rates.
Often the railways oppose on rates, and suggest that road transport obtained its traffic because of cuts made in the rates, a sound argument, often upheld by the Authorities. Then, if the railways can oppose on economic grounds, road operators should have some redress when the railways take traffic on which they have cut the rates to those charged by road transport or below therri..,
The railway returns last year showed only 1 per cent. increase in turnover on 1934. The railway officials with whom I have conversed, agree that they did 10-15' per cent. more traffic. I think this clearly shows that the railways are cutting rates and we on the" road " side should take action before the railways approach the Government and say "We cannot make railways pay owing to road competition; increase the faxes already imposed." I should be pleased to have comments on this last
point. JOHN MORTON, A.M.1nst.T.,
Coventry. For John Morton and Son, Ltd.