A New Marshall Medium-weight Tractor
14th February 1936
Page 31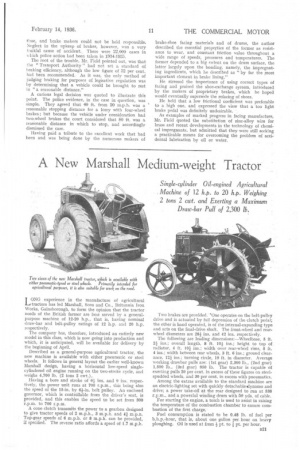 Page 31, 14th February 1936 —
A New Marshall Medium-weight Tractor
Close
Single-cylinder Oil-engined Agricultural Machine of 12 h.p. to 20 h.p. Weighing 2 tons 2 cwt. and Exerting a Maximum Draw-bar Pull of 2,300 lb.
LONGLONG experience in the manufacture of agricultural has led Marshall, Sons and Co., Britannia Iron Works, Gainsborough, to form the opinion that the tractor needs of the British farmer are best served by a generalpurpose machine of 12-20 h.p" that is, having nominal draw-bar and belt-pulley ratings of 12 h.p. and 20 h.p. respectively.
The company has, therefore, introduced an entirely new model in this class, which is now going into production and which, it is anticipated, will be available for delivery by the beginning of April.
Described as a general-purpose agricultural tractor, the new machine is available with either pneumatic or steel wheels. It follows in general layout the earlier well-known Marshall design, having a horizontal low-speed singlecylindered oil engine running on the two-stroke cycle, and weighs 4,700 lb. (2 tons 2 cwt.).
Having a bore and stroke of 64 ins. and 9 ins, respectively, the power unit runs at 700 r.p.m., this being also the speed of the I5-in. by 64-in, belt pulley. An enclosed governor, which is controllable from the driver's seat, is provided, and this enables the speed to be set from 300 r.p.m. to 700 r.p.m.
A cone clutch transmits the power to a gearbox designed to give tractor speeds of 2 m.p.h., 3 m.p.h. and 41 m.p.h. Top-gear speeds of 6 m.p.h. or 8 m.p.h. can be provided, if specified. The reverse ratio affords a speed of 1.7 m.p.h. Two brakes are provided. One operates on the belt-pulley drive and is actuated by full depression of the clutch pedal; the other is hand operated, is of the internal-expanding type and acts on the final-drive shaft. The front-wheel and rearwheel diameters are 284 ins, and 42 ins. respectively.
The following are leading dimensions:—Wheelbase, 5 ft. 24 ins.; overall length, 8 ft. 104 ins.; height to top of radiator, 4 ft. 104 ins.; width over rear-wheel rims, 5 ft. 4 ins.; width between rear wheels, 3 ft. 6 ins.; ground clearance, 124 iris.; turning circle, 19 ft. in diameter. Average working drawbar pulls are: (1st gear) 2,300 lb., (2nd gear) 1,500 lb., (3rd gear) 950 lb. The tractor is capable of exerting pulls 20 per cent, in excess of'these figures on steelspudded wheels, and 30 per cent, in excess with pneumatics.
Among the extras available to the standard machine are an electric-lighting set with quickly detachableadynamo and drive; a power take-off at the rear designed to run at 538 r.p.m., and a powerful winding drum with 50 yds. of cable.
For starting the engine, a torch is used to assist in raising the temperature of the combustion chamber to ensure combustion of the first charge.
Fuel consumption is stated to be 0.48 lb. of fuel per b.h.p.-hour, that is, about one gallon per hour on heavy ploughing. Oil is used at from 4 pt. to 4 pt. per hour.