S.T.R. IN YORKSHIRE NEXT WEEK.
14th February 1936
Page 29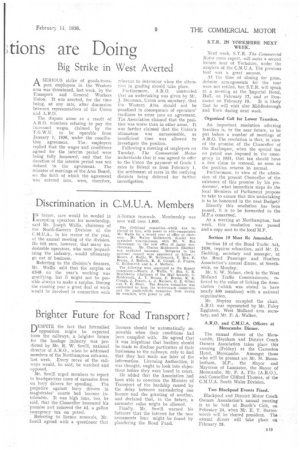 Page 29, 14th February 1936 —
S.T.R. IN YORKSHIRE NEXT WEEK.
Close
Next week. 8.T.R. The Commercial Motor costs expert, will make a second lecture tour of Yorkshire, under the auspices of the C.M.U.A. The previous tour was a great success,
At the time of closing for press, definite arrangements for the tour were not settled, but S.T.R. will speak at a meeting at the Imperial Hotel, Hull, on February 17, and at Don caster on February 19. It is likely that he will visit also Middlesbrough and York during next week.
Organized Call for -Lower Taxation.
An important resolution affecting taxation is, in the near future, to be put before a number of meetings Of A.R.O. The resolution is that, in view of the promise of the Chancellor of the Exchequer, when the special tax on petrol was imposed in the emergency in 1931, that tax should have a first claim to removal, so soon as the position returns to normal.
• Furthermore, in view of the admission of the present Chancellor of the existence of this promise by his predecessor, what immediate steps do the local Members of Parliament propose to take to ensure that this undertaking is to be honoured in the next Budget?
Directly this resolution has been passed, it is to be forwarded to the M.P.s concerned, At a meeting at Northampton, last week, this resolution was passed and a copy sent to the local M.P.
Section 19 Must Be Amended.
Section 19 of the Road Traffic Act, 1930, requires relaxation, said Mr. D. Skelding, secretary and manager, at the Road Passenger and Hauliers Association's annual dinner, at Smethwick, on Monday.
Mr. S. W. Nelson, clerk to the West Midland Traffic Commissioners, referred to the value of linking the Association (which was stated to have nearly 500 members) with a national organization, Mr. Hopton occupied the chair. A.R.O. was represented by Mr. Foley Egginton, West Midland area secretary, and Mr. F. A. Walker.
A.R.O. and C.M.U.A. Officers at Morecambe Dinner.
The annual dinner of the Morecamtle, Heysham and District Coach Owners Association takes place this evening (Friday) at the Clarendon Hotel, Morecambe. Amongst those who will be present are Mr. H. Rainsbotham, M.P., the Mayor and Mayoress of Lancaster, the Mayor of Morecambe, Mr. F, A. Flin (A.R.0.), and Councillor Clifford Thomas, of the C.M.U.A. South Wales Division.
Two Blackpool Events Fixed.
Blackpool and District Motor Coach Owners Association's annual meeting is to be held at Booth's Cafe, on February 24, when Mr. E. T. Butterworth will be 'elected president. The annual dinner will take place on February 28,