Brighter Future for Road Transport?
14th February 1936
Page 29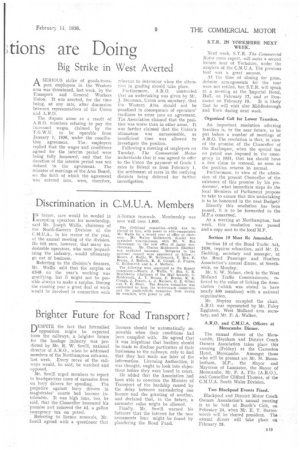 Page 29, 14th February 1936 —
Brighter Future for Road Transport?
Close
rIESPITE the fact that intensified LI opposition might be expected from the railways, a brighter future for the haulage industry was predicted by Mr. R. W. Sewill, national director of A.R.O., when he addressed members of the Northampton sub-area, last week. Every move of the railways would, he said, be watched and opposed.
Mr. Sewill urged members to report to headquarters cases of excessive fines on lorry drivers for speeding. The prejudice against lorry drivers in magistrates' courts had become intolerable. It was high time, too, be said, that the Chancellor honoured his 'promise and rennoved the 4d. a gallon emergency tax on petrol.
. Referring to licence renewals, Mr. Sewill agreed with a questioner that licences should be automatically renewable when their conditions had been complied with. He agreed that it was iniquitous that hauliers should be made to disclose ,particulars of their businesses to the railways, only to find that they had made use later of the information. Licensing Authorities, it was thought, ought to look into objections before they were heard in court.
He added that the Association had been able to convince the Minister of Transport of the hardship caused by the delay between surrendering one licence, and the granting of another, and declared that, in the future, a surrender value might be allowed.
Finally, Mr. Sewill warned his listeners That the inthrest for the new armaments loan might be found by plundering the Road Fund.