Road and Rail Price-cutting
14th February 1936
Page 25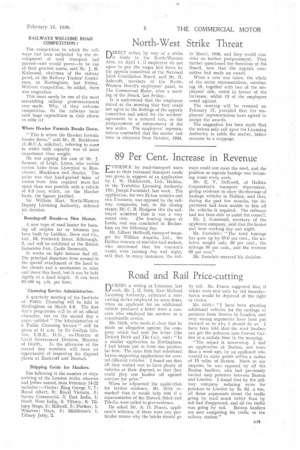 Page 25, 14th February 1936 —
Road and Rail Price-cutting
Close
DURING a sitting at Leicester, last week, Mr. J. H. Stirk, East Midland Licensing Authority, criticized a ratecutting device employed by some firms, when an applicant for an additional vehicle produced a letter from a concern who employed his services to a considerable extent.
Mr. Stick, who made it clear that he made no allegation against the company which had sent the letter (the Ibstock Brick and Tile Co.), said: "In a similar application in Nottingham, I had letters put in from one particular firm. The same firm had submitted letters supporting applications for several different vehicles. I found out that all they wished was to have plenty of vehicles at their disposal, so that they could play one haulier off against another for price."
When he adjourned the application for further evidence, Mr. Stick remarked that it would help him if a representative of the Ibstock Brick and Tile Co. were called to give evidence.
He asked Mr. A. D. Foxon, applicant's solicitor, if there were any particular reason why the bricks should go by rail. Mr. Foxon suggested that if bricks were sent only by rail manufacturers would be deprived of the right of choice.
Mr. Stick : ." I have been granting additional vehicles for the carriage of potatoes from Boston to London, and very strong arguments have been put forward as to why I should do so. I have been told that the road hauliers can get the potatoes into Covent Garden at a certain time in the morning.
" The sequel is interesting. I had an application at 'Boston, not more than a week ago, by an applicant who wanted to carry goods within a radius of 15 miles of Boston. Much to my surprise, he was opposed by all the Boston hauliers, who had previously carried only potatoes between Boston and London. I found that by the railway company reducing rates for potatoes to London by 2s. 6d. a ton, all those arguments about the traffic going by road much better than by rail had disappeared, and all the traffic was going by rail. Boston hauliers are now competing for traffic to the railway station."