NEWS of the WEEK
14th February 1936
Page 24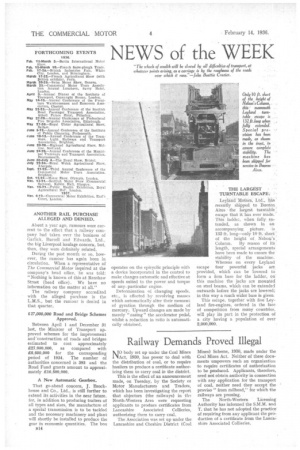 Page 24, 14th February 1936 —
NEWS of the WEEK
Close
The wheels of wealth will be slowed by all di/Fealties of transport, at whatever points arising, as a carriage is by the roughness of the roads over which it runs."—John Beattie Crozier.
THE LARGEST TURNTABLE ESCAPE. . .
Leyland" Motors, Ltd:, IIM recently shipped to 'Buenos.; Aires the largest turntable •. escape that it has evefinade. This ladder, when fully exr tended, as shown in an accompanying picture. is 132 ft, long—only 10 ft. short: of the height of Nelson's Column, By reason of it length, special arrangements have been made to ensure the • stability of the machine. Whereas on every Leyland escape four powerful jacks are provided, which can be lowered to form a firm base for the ladder, on' this machine the jacks are mounted on steel beams, which can be extended outwards before the jacks are lowered; in this way a much wider bAse is given.
This escape, together with five Leyland fire-engines, ordered in the lace of competition from many countries, will play its part in the protection of a city having a population of over 2,000,000.