ANOTHER RAIL PURCHASE ALLEGED AND DENIED.
14th February 1936
Page 24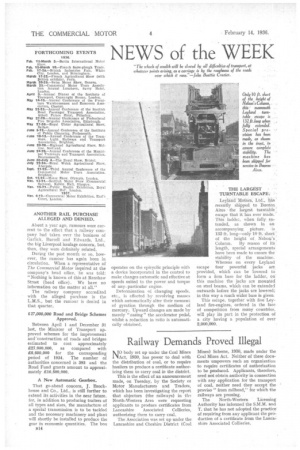 Page 24, 14th February 1936 —
ANOTHER RAIL PURCHASE ALLEGED AND DENIED.
Close
About a year ago, rumours were current to the effect that a railway company had taken over the business of Garlick, Burrell and Edwards, Ltd., the big Liverpool haulage concern, but, then, they were definitely refuted.
During the past month or so, however, the rumour has again been in circulation. When a representative of The Commercial Motor inquired at the company's head office, he was told: "Nothing is known of this at Renshaw Street (head office), We have no information on the matter at all."
The railway company accredited with the alleged purchase is the LACS., but the rumour is denied in that quarter.
£27,000,000 Road and Bridge Schemes Approved.
Between April 1 and December 31 last, the Minister of Transport approved schemes for the improvement and constructionof roads and bridges estimated to cost approximately £27;000,000, as compared with £0,600,000 for the corresponding period of 1934. The number of authorities concerned is 393 and the Road Fund grants amount to approximately £16,500,000.
A New Automatic Gearbox.
That go-ahead concern, J. Brockhouse and Co., Ltd., is still further to extend its activities in the near future. for, in addition to producing trailers of all types and sizes, the manufacture of a special transmission is to be tackled and the necessary machinery and plant will shortly be installed to produce the gear in economic quantities. The box operates on the epicyclie principle with a device incorporated in the control to make changes automatic and effective at speeds suited to the power and torque of anyparticular engine.
Determination of changing speeds, etc., is effected by revolving masses which automatically alter their moment of gyration through the medium of mercury. Upward changes are made by merely "easing" the accelerator pedal, whilst a reduction in ratio is automatically obtained.