Recommendations on Beam Aiming
14th December 1956
Page 71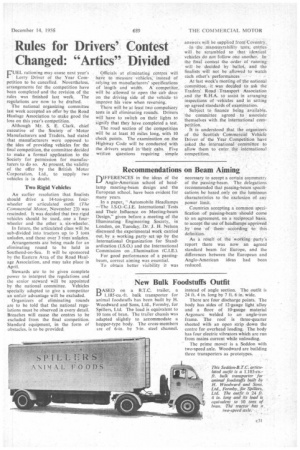 Page 71, 14th December 1956 —
Recommendations on Beam Aiming
Close
INFFERENCES in the ideas of the 1-0' Anglo-American school of headlamp meeting-beam design and the European school, have been evident for many years.
In a paper,. "Automobile Headlamps —The I.S.O.-C.I.E. International Tests and Their Influence on Meeting-beam Design," given before a meeting of the Illuminating Engineering Society, in London, on. Tuesday. Dr. J. H. Nelson discussed the experimental work carried out by a• working party set up by the International Organization for Standardization (1.S.D.) and the International Commission on . Illumination (C.I.E.).
For good performance of a passingbeam, correct aiming was essential.
To obtain better visibility it was necessary to accept a certain asymmetr■ of the passing-beam. The delegations recommended that passing-beam specifications be based only on the luminous characteristics to the exclusion of any power limit.
Countries accepting a cornmon specification of passingrbeam should come to an agreement, on a reciprocal basis, to accept the use of headlamps appriaved by one of them aCcording 'to this definition. " • As a result: of the 'working party's report there was now an agreed standard beam for Europe, and the differences between the European and Anglo-American ideas had been reduced.