Midland Hauliers in a Maze
14th December 1956
Page 59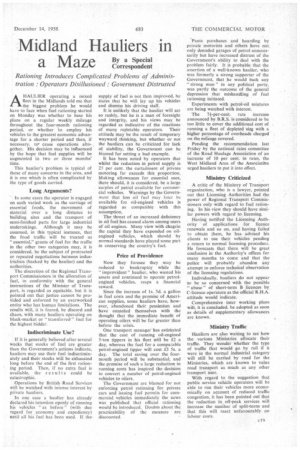 Page 59, 14th December 1956 —
Midland Hauliers in a Maze
Close
By a Special Correspondent Rationing Introduces Complicated Problems of Administration : Operators Disillusioned : Government Distrusted
AHAULIER operating a mixed fleet in the Midlands told me that the biggest problem he would have to face when fuel rationing started on Monday was whether to base his plans on a regular weekly mileage throughout the four-month rationing period, or whether to employ his vehicles to the greatest economic advantage for a shorter period and then, if necessary, to cease operations alto, gether. His decision may be influenced by the hope that fuel supplies will be augmented in two or three months' time.
This haulier's problem is typical of those of many concerns in the area, and it is one which is often complicated by the type of goods carried.
LOilg Arguments?
In some cases the operator is engaged on such varied work as the carriage of essential foods, the movement of material over a long distance to building sites and the transport of semi-finished parts for large industrial undertakings. Although it may be assumed, in this typical instance, that the food traffic will be treated as "essential," grants of fuel for the traffic in the other two categories may, it is considered, be the subject of protracted or repeated negotiations between industrialists (backed by the haulier) and the authorities.
The discretion of the Regional Transport Commissioners in the allocation of fuel, in conformity with the general instructions of the Minister of Transport, is regarded as equitable, but it is pointed out that justice cannot be provided and enforced by an overworked entity who has human limitations. The results will, it is feared, be discord and chaos, with many hauliers operating on black-market or " transferred " fuel for the highest bidder.
Indiscriminate Use?
If it is generally believed after several weeks that stocks of fuel are greater than the Government's actions indicate, hauliers may use their fuel indiscriminately and their stocks wilt be exhausted long before thc end of the first rationing period. Then, if no extra fuel is available, the r esults could be catastrophic.
Operations by British Road Services will be watched with intense interest by private hauliers.
In one case a haulier has already declared his intention openly of running his vehicles "as before" (with due regard for economy and expediency) until all his fuel has been used. If the
supply of fuel is not then improved, he states that he will lay up his vehicles and dismiss his driving staff.
It is unlikely that the haulier will act so rashly, but he is a man of foresight and integrity, and his views may he regarded as indicative of the reactions of many replitable operators. Their attitude may be the result of temporary wayward thinking, but whether or not the hauliers can be criticized for lack of stability, the Government can he blamed for setting a bad example.
It has been noted by operators that whilst the reduction in petrol supply is 25 per cent, the curtailment of private motoring far exceeds this proportion. Making allowances for essential uses, there should, it is considered, be a large surplus of petrol available for commercial vehicles. Warnings by the Government that less oil fuel may later be available for oil-engined vehicles is regarded as compatible with this assumption.
The threat of an increased deficiency in oil fuel has caused alarm among users of oil engines. Many view with chagrin the capital they have expended on oilertgined vehicles, which should by normal standards have played some part in conserving the country's fuel.
Price of Providence
Now they foresee they may be reduced to bankruptcy while the " improvident " haulier, who wasted his assets and continued to operate petrolengined vehicles, reaps a financial reward.
Since the increase of Is. 5d. a gallon in fuel costs and the promise of American supplies, some hauliers have. however, abandoned their pessimism and have consoled themselves with the thought that the immediate benefit of operating oilers will be far greater than before the crisis.
One transport manager has estithated that the cost of running oil-eneined 5-ton tippers in his fleet will be £2 a day, whereas the fuel for a comparable petrol-engined tipper will cost £3 5s. a day. The total saving over the fourmonth period will be substantial, and the promise of such a large reduction in running costs has inspired the decision to convert a number of petrol-engined vehicles to oilers.
The Government arc blamed for not enforcing petrol rationing for private cars and issuing fuel permits for commercial vehicles immediately the news was published that official rationing would be introduced. Doubts about the practicability of . the measure are discounted. • 'Panic purchases and hoarding by private motorists and others have not only denuded garages of petrol unnecessarily but have increased distrust of the Government's ability to deal with the problem fairly. It is probable that the assertion of a well-known haulier, who was formerly a strong supporter of the Government, that he would back any " strong man " in any political party, was partly the outcome of the general depression that mishandling of fuel rationing initiated.
Experiments with petrol-oil mixtures are being watched with interest.
The 7j'-per-cent. rate increase announced by B.R.S. is considered to be too little to cover the additional cost of running a fleet of depleted size with a higher percentage of overheads charged on the mileage covered.
Pending the recommendation last Friday by the national rates committee of the Road Haulage Association of an increase of 10 per cent. in rates, the West Midland Area of the Association urged hauliers to put it into effect.
Ministry Criticized
A critic of the Ministry of Transport organization, who is a lawyer, pointed out that Licensing Authorities had the power of Regional Transport Commissioners only with regard to fuel rationing. In his view they should have similar powers with regard to licensing.
Having notified the Licensing Authority of applications for licence renewals and so on. and having failed to obtain them, he has advised his clients to use their vehicles pending a return to normal licensing procedure. He forecasts that there will be great confusion in the Authority's offices for many months to come and that the police wilt probably abandon any attempt to enforce technical observation of the licensing regulations.
Individually, hauliers do not appear to be so concerned with the possible "abuse" of short-term B licences by C-licence operators as the official R.11.A., attitude would indicate.
Comprehensive inter working plans will, it is concluded, be adopted as soon as details of supplementary allowances are known.
Ministry Traffic
Hauliers are also waiting to see how the various Ministries allocate their traffic. They wonder whether the type of traffic that would go by rail if it were in the normal industrial category will still be carried by road for the Ministries, which are known to value road transport as much as any other transport user.
With regard to the suggestion that public service vehicle operators will be able to run their vehicles more economically on account of reduced traffic congestion, it has been pointed out that the reduction in off-peak services will increase the number of split-turns and that this will react unfavourably on labour costs.