Pattern of Future Fare Agreements
14th December 1956
Page 49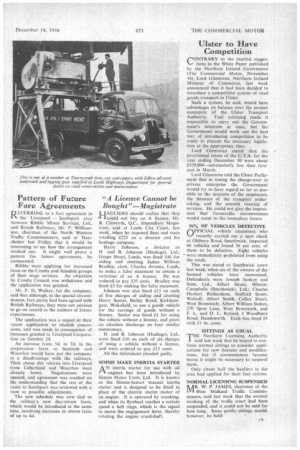 Page 49, 14th December 1956 —
Pattern of Future Fare Agreements
Close
EFERR1NG to a fare agreement in the Liverpool — Southport area between Ribble Minor Services, Ltd., and British Railways, Mr. F. Williamson, chairman of the North Western Traffic Commissioners, said at Manchester last Friday that it would be interesting to see bow the arrangement worked out. It might well prove a pattern for. future agreements, he commented.
Ribble were applying for increased fares on the Crosby and Ainsdale groups of their stage services. An objection by Crosby Council was withdrawn and the application was granted.
Mr. F. D. Walker, for the company, said that although, in the special circumstances, fare parity had been agreed with British Railways, they were not anxious to go on record as the authors of future experiments.
The application was a sequel to their recent application to abolish concessions, and was made in consequence of increases granted to Liverpool Corporation on October 29.
An increase from 5d. to 7d. in the corporation fares to Seaforth and Waterloo would have put the company at a disadvantage with the railways. Their cheap day returns into Liverpool from Litherland and Waterloo were already lower. Negotiations were opened, and agreement was reached on the understanding that the rest of the route to Southport was reviewed with a • view to possible adjustments.
The new schedule was now tied to the railway's new day-return fares, which would be introduced at the same time, involving increases in return fares of up to 4d.