"Only 75% of Allowance Used"
14th December 1956
Page 45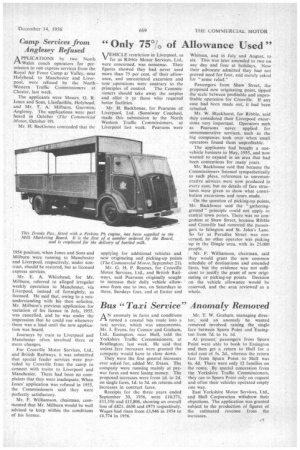 Page 45, 14th December 1956 —
"Only 75% of Allowance Used"
Close
VEHICLE restriction in Liverpool. so far as Ribble Motor Services, Ltd., were concerned, was nonsense. Their figures showed they had never used more than 75 per cent. of their allowance, and unrestricted excursion and tour operations were contrary to the principles of control. The Commissioners should take away the surplus and allot it to those who required better facilities.
Mr. H. Backhouse, for Pearsons of Liverpool, Ltd. (Sunniway Coaches), made this submission to the North Western Traffic Commissioners, at Liverpool last week. Pearsons were
applying for additional vehicles and new originating and picking-up points (The Commercial Motor, September 21).
Mr. G. H, P. Beames, for Crosville Motor Services, Ltd., and British Railways, said Pearsons originally sought to increase their daily vehicle allowance from one to two, on Saturdays to three, Sundays four, and at Easter and Whitsun, and in July and August, to six. This was later amended to two on any day and four at holidays. Now their advocate admitted they had not proved need for four, and merely asked for " some relief."
Passengers from Shaw Street, the proposed new originating point, tipped the scale between profitable and unprofitable operation for Crosville. If any case had been made out, it had been rebutted.
Mr. W. Blackhurst, for Ribble. said they considered their Liverpool excursions very important. Operators such as Pearsons never applied for unremunerative services, such as the big companies took over when small operators found them unprofitable.
The applicants had bought a onevehicle business in May, 1955, and now wanted to expand in an area that had been contentious for many years.
Mr. 13ackhouse said that because the Commissioners listened sympathetically to such pleas, references to unremunerative services were now produced in every case, but no details of fare structures were given to show what contribution excursions and tours made.
On the question of picking-up points, Mr. Backhousc said the " gatheringground" principle could not apply to central town points. There was no congestion at Shaw Street, because Ribble and Crosville had removed the passengers to Islington and St. John's Lane. So far as Paradise Street was concerned, no other operator was picking up in the Dingle area, with its 25,000 people.
Mr. F. Williamson, chairman, said they would grant the new common schedule of destinations and amended fares, but the evidence was not sufficient to justify the grant of new originating or picking-up points. Decision on the vehicle allowance would be reserved, and the area reviewed as a whole.