R.T.C. and Minister • Disagree on Fuel
14th December 1956
Page 40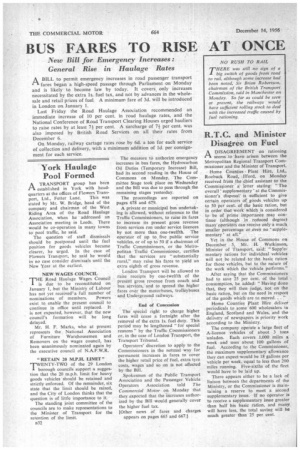 Page 40, 14th December 1956 —
R.T.C. and Minister • Disagree on Fuel
Close
1-1. A DISAGREEMENT on rationing seems to have arisen between the Metropolitan Regional Transport Commissioner and the Minister of Transport.
• Home Counties Plant Hire, Ltd., Roebuck Road, Ilford, on Monday received from the chiefassistant to the Commissioner a letter stating: "The overall supplementary ' at the Commissioner's disposal is sufficient to give certain operators of goods vehicles up to 50 Per cent, of the basic ration, but in order that work which is considered to be of prime importance may continue (although in reduced degree) many operators can receive only a much smaller percentage or even no 'supplementary ' at all."
Yet in the House of Commons on December 5, Mr. H. Watkinson. Minister of Transport, said: " Supp!ementary rations for individual vehicles will not be related .to.the basic ration for those vehicles, but to the nature of the work which the vehicle performs."
After saying that the Commissioners had to save 25 per cent, of the total consumption, he added: "Having done that, they will then judge, not on the basic ration, but on the need in respect of the goods which are to moved. .. "
Home Counties Plant Hire deliver periodicals to some' 600 wholesalers in England, Scotland and Wales, and the delivery of newspapers is priority work according to the Ministry.
The company operate a large fleet of A-licence vehicles of about 3 tons unladen. Each covers 1,000 miles a week and uses about 100 gallons of fuel. According to the Commissioner, the maximum supplementary allowance they can expect would be 18 gallons per vehicle per week, equal to less than 200 miles running. Five-sixths of the fleet would have to be laid up.
There appears either to be a lack of liaison between the departrnents of the Ministry, or the Commissioner is maintaining a reserve to meet a second supplementary issue. If no operator is to receive a supplementary issue greater than half his basic ration, and many. will have less, the total saving will be much greater than 25 per cent.