Tour Operators Need an Answer Now
14th December 1956
Page 38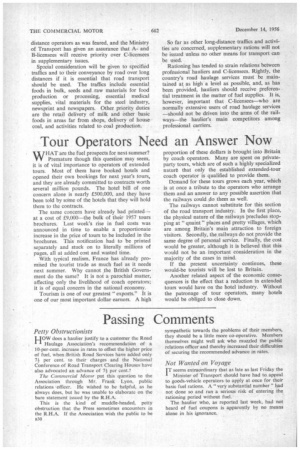 Page 38, 14th December 1956 —
Tour Operators Need an Answer Now
Close
WHAT are the fuel prospects for next summer? Premature though this question may seem, it is of vital importance to operators of extended tours. Most of them have booked hotels and opened their own bookings for next year's tours, and they are already committed to contracts worth several million pounds. The hotel bill of one concern alone is nearly £500,000, and they have been told by some of the hotels that they will hold them to the contracts.
The same concern have already had printed— at a cost of £9,000—the bulk of their 1957 tours brochures. Last week's rise in fuel costs was announced in time to enable a proportionate increase in the price of tours to be included in the brochures. This notification had to be printed separately and stuck on to literally millions of pages, all at added cost and wasted time.
With typical realism, France has already promised the tourist trade as much fuel as it needs next summer. Why cannot the British Government do the same? It is not a parochial matter, affecting only the livelihood of coach operators; it is of equal concern in the national economy.
Tourism is one of our greatest "exports." It is one of our most important dollar earners. A high proportion of these dollars is brought into Britain by coach operators. Many are spent on privateparty tours, which are of such a highly specialized nature that only the established extended-tour coach operator is qualified to provide them.
Demand for these tours grows each year, which is at once a tribute to the operators who arrange them and an answer to any possible assertion that the railways could do them as well.
The railways cannot substitute for this section of the road transport industry. In the first place, the physical nature of the railways 'precludes stopping at " quaint " places and pretty villages, which are among Britain's main attraction to foreign visitors. Secondly, the railways do not provide the same degree of personal service. Finally, the cost would be greater, although it is believed that this would not be an important consideration in the majority of the cases in mind.
If the present uncertainty continues, these would-be tourists will be lost to Britain.
Another related aspect of the economic consequences is the effect that a reduction in extended tours would have on the hotel industry. Without the patronage of tour operators, many hotels would be obliged to close down.