HA tells hauliers to tighten up on ratchet straps
14th August 2008
Page 9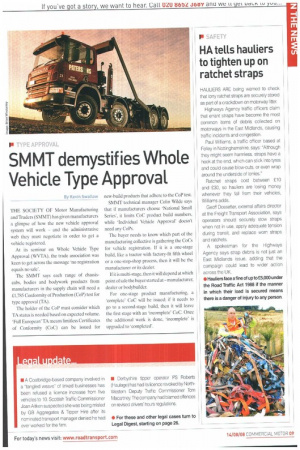 Page 9, 14th August 2008 —
HA tells hauliers to tighten up on ratchet straps
Close
HAULIERS ARE being warned to check that lorry ratchet straps are securely stored as part of a crackdown on motorway litter, Highways Agency traffic officers claim that errant straps have become the most common items of debris collected on motorways in the East Midlands, causing traffic incidents and congestion.
Paul Williams, a traffic officer based at Felley in Nottinghamshire, says: "Although they might seem harmless, straps have a hook at the end, which can stick into tyres and could cause blow-outs, or even wrap around the underside of lorries."
Ratchet straps cost between £10 and £30, so hauliers are losing money whenever they fall from their vehicles, Williams adds.
Geoff Dossetter, external affairs director at the Freight Transport Association, says operators should securely stow straps when not in use, apply adequate tension during transit, and replace worn straps and ratchets.
A spokesman for the Highways Agency says strap debris is not just an East Midlands issue, adding that the campaign could lead to wider action across the UK.
• Hauliers face a fine of upto £5,000 under the Road Traffic Act 1988 if the manner in which their load is secured means there is a danger of injury to any person