Turners loses British Sugar contract to Suttons Group
14th August 2008
Page 8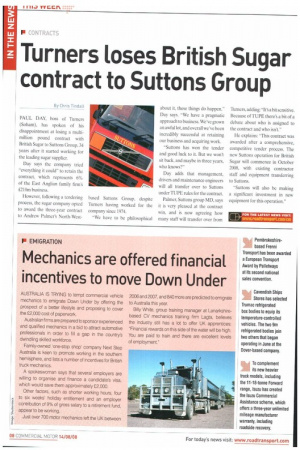 Page 8, 14th August 2008 —
Turners loses British Sugar contract to Suttons Group
Close
By Chris Tindall
PAUL DAY, boss of Turners (Soham), has spoken of his disappointment at losing a multimillion pound contract with British Sugar to Suttons Group. 34 years after it started working for the leading sugar supplier.
Day says the company tried -everything it couldto retain the contract, which represents 6% of the East Anglian family firm's £210m business.
However, following a tendering process, the sugar company opted to award the three-year contract to Andrew Palmer's North-West based Suttons Group, despite Turners having worked for the company since 1974.
"We have to be philosophical about it, these things do happen," Day says. "We have a pragmatic approach to business. We've grown an awful lot, and overall we've been incredibly successful at retaining our business and acquiring work.
"Suttons has won the tender and good luck to it. But we won't sit back, and maybe in three years, who knows?"
Day adds that management, drivers and maintenance engineers will all transfer over to Suttons under TUPE rules for the contract.
Palmer, Suttons group MD, says it is very pleased at the contract win, and is now agreeing how many staff will transfer over from Turners, adding: "It's a bit sensitive. Because of TUPE there's a bit of a debate about who is assigned to the contract and who isn't."
He explains: -This contract was awarded after a comprehensive, competitive tender process. The new Suttons operation for British Sugar will commence in October 2008, with existing contractor staff and equipment transferring to Suttons.
"Suttons will also be making a significant investment in new equipment for this operation."