Kevin Swallow
14th August 2008
Page 41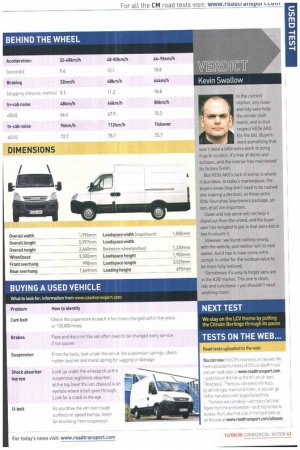 Page 41, 14th August 2008 —
Kevin Swallow
Close
In the current market, any clean and tidy vans help the vendor shift metal, and in that respect KE56 AKO fits the bill. Buyers want something that won't need a little extra work to bring it up to scratch. It's free of dents and scrapes, and the interior has maintained its factory finish.
But KE56 AKO's lack of extras is where it stumbles. In today's marketplace, the buyers know they don't need to be rushed into making a decision, so those extra little flourishes (electronics package, aircon, et at) are important.
Clean and tidy alone will not help it stand out from the crowd, and the buyer won't be tempted to put in that extra bid or two to secure it.
However, we found nothing wrong with the vehicle, and neither will its next owner, but it has to have some extra oomph in order for the residual value to be more fully realised.
Sometimes it's easy to forget vans are in the A2B market. This one is clean, tidy and functional you shouldn't need anything more.