Casting the net wider
14th August 2008
Page 30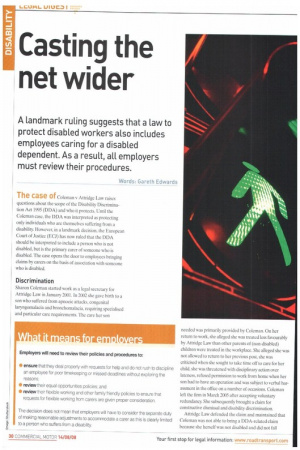 Page 31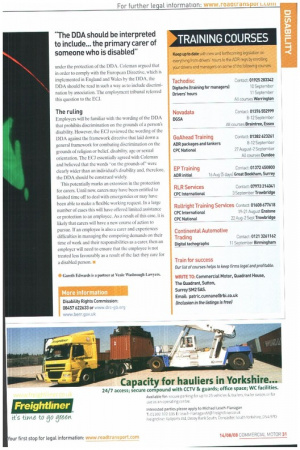 Page 30, 14th August 2008 —
Casting the net wider
Close
Keywords :
Disability Rights
,
Management Of Dyslexia
,
Coleman V Attridge Law
,
Disability Discrimination Act
,
Family
,
Disability
,
Caregiver
,
Discrimination
,
Ableism
,
Dda
,
United Kingdom Employment Discrimination Law
,
Social Issues
,
Law / Crime
,
Labor
A landmark ruling suggests that a law to protect disabled workers also includes employees caring for a disabled dependent. As a result, all employers must review their procedures.
Words: Gareth Edwards The case of Coleman v Attridge Law raises questions about the scope of the Disability Discrimination Act 1995 (DDA) and who it protects. Until the Coleman case. the DDA was interpreted as protecting only individuals who are themselves suffering from a disability However, in a landmark decision, the European Court of Justice (ECJ) has now ruled that the DDA should be interpreted to include a person who is not disabled, but is the primary carer of someone who is disabled. The case opens the door to employees bringing claims by carers on the basis of association with someone who is disabled.
Discrimination
Sharon Coleman started work as a legal secretary for Attridge Law in January 2001. In 2002 she gave birth to a son who suffered from apnoeic attacks, congenital laryngomalacia and brorichomalacia. requiring specialised and particular care requirements. The care her son needed was primarily provided by Coleman. On her return to work, she alleged she was treated less favourably by Attridge Law than other parents of (non-disabled) children were treated in the workplace. She alleged she was not allowed to return to her previous post, she was criticised when she sought to take time off to care for her child, she was threatened with disciplinary action over lateness, refused permission to work from home when her son had to have an operation and was subject to verbal harassment in the office on a number of occasions. Coleman left the firm in March 2005 after accepting voluntary redundancy. She subsequently brought a claim for constructive dismissal and disability discrimination.
Attridge Law defended the claim and maintained that Coleman was not able to bring a DDA-related claim because she herself was not disabled and did not fall under the protection of the DDA. Coleman argued that in order to comply with the European Directive, which is implemented in England and Wales by the DDA, the DDA should be read in such a way as to include discrimination by association. The employment tribunal referred this question to the ECJ.
The ruling Employers will be familiar with the wording of the DDA that prohibits discrimination on the grounds of a person's disability. However, the ECJ reviewed the wording of the DDA against the framework directive that laid down a general framework for combating discrimination on the grounds of religion or belief, disability age or sexual orientation. The EC.J. essentially agreed with Coleman and believed that the words "on the grounds of' were clearly wider than an individual's disability and, therefore, the DDA should be construed widely.
This potentially marks an extension in the protection for carers. Until now, carers may have been entitled to limited time off to deal with emergencies or may have been able to make a flexible working request. In a large number of cases this will have offered limited assistance or protection to an employee. As a result of this case, it is likely that carers will have a new course of action to pursue. If an employee is also a carer and experiences difficulties in managing the competing demands on their time of work and their responsibilities as a carer, then an employer will need to ensure that the employee is not treated less favourably as a result of the fact they care for a disabled person. •