Operator was aware of 'tacho fiddling'
14th August 2008
Page 28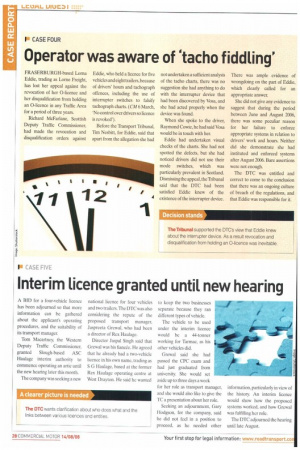 Page 28, 14th August 2008 —
Operator was aware of 'tacho fiddling'
Close
FRASERBURGH-based Lorna Eddie, trading as Lorne Freight, has lost her appeal against the revocation of her 0-licence and her disqualification from holding an 0-licence in any Traffic Area for a period of three years.
Richard McFarlane, Scottish Deputy Traffic Commissioner, had made the revocation and disqualification orders against Eddie, who held a licence for five ve hicles and eight trailers, because of drivers' hours and tachograph offences, including the use of interrupter switches to falsify tachograph charts. (CM 6 March, 'No control over drivers so licence is revoked').
Before the Transport Tribunal, Tim Nesbitt, for Eddie, said that apart from the allegation she had not undertaken a sufficient analysis of the tacho charts, there was no suggestion she had anything to do with the interrupter device that had been discovered by Vosa, and she had acted properly when the device was found.
When she spoke to the driver, Raymond Cowie, he had said Vosa would be in touch with her.
Eddie had undertaken visual checks of the charts. She had not spotted the defects, but she had noticed drivers did not use their mode switches, which was particularly prevalent in Scotland. Dismissing the appeal, the Tribunal said that the DTC had been satisfied Eddie knew of the existence of the interrupter device. There was ample evidence of wrongdoing on the part of Eddie, which clearly called for an appropriate answer.
She did not give any evidence to suggest that during the period between June and August 2006, there was some peculiar reason for her failure to enforce appropriate systems in relation to drivers' work and hours. Neither did she demonstrate she had instituted and enforced systems after August 2006. Bare assertions were not enough.
The DTC was entitled and correct to come to the conclusion that there was an ongoing culture of breach of the regulations, and that Eddie was responsible for it.