Interim licence granted until new hearing
14th August 2008
Page 28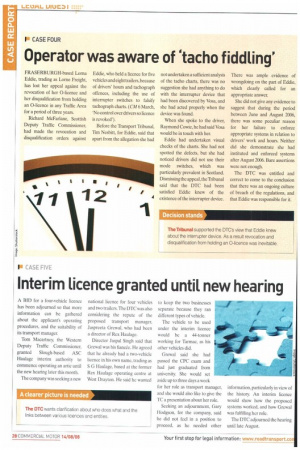 Page 28, 14th August 2008 —
Interim licence granted until new hearing
Close
A BID for a four-vehicle licence has been adjourned so that more information can be gathered about the applicant's operating procedures, and the suitability of its transport manager.
Tom Macartney, the Western Deputy Traffic Commissioner, granted Slough-based ASC Haulage interim authority to commence operating an attic until the new hearing later this month.
The company was seeking a new national licence for four vehicles and two trailers. The DTC was also considering the repute of the proposed transport manager, Jaspreeta Grewal, who had been a director of Rex Haulage.
Director Jaspal Singh said that Grewal was his fiancée. He agreed that he already had a two-vehicle licence in his own name, trading as S 0 Haulage, based at the former Rex Haulage operating centre at West Drayton. He said he wanted to keep the two businesses separate because they ran different types of vehicle.
The vehicle to be used under the interim licence would be a 44-ton ner working for Tarmac, as his other vehicles did.
Grewal said she had passed the CPC exam and had just graduated from university. She would set aside up to three days a week for her role as transport manager, and she would also like to give the TC a presentation about her role.
Seeking an adjournment, Gary Hodgson, for the company, said he did not feel in a position to proceed, as he needed other information, particularly in view of the history. An interim licence would show how the proposed systems worked, and how Grewal was fulfilling her role.
The DTC adjourned the hearing until late August.