We need to start gassing
14th August 2008
Page 20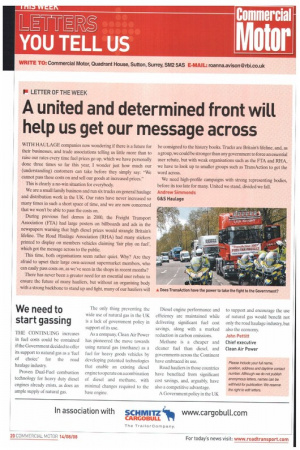 Page 20, 14th August 2008 —
We need to start gassing
Close
Keywords :
Fuels
,
Alternative Propulsion
,
Anaerobic Digestion
,
Fuel Gas
,
Gases
,
Natural Gas
,
Diesel Engine
,
Methane
,
Flexible-fuel Vehicle
,
Compressed Natural Gas
,
Biofuel
,
Business / Finance
,
Environment
THE CONTINUING increases in fuel costs could be contained if the Government decided to offer its support to natural gas as a 'fuel of choice' for the road haulage industry.
Proven Dual-Fuel combustion technology for heavy duty diesel engines already exists, as does an ample supply of natural gas. The only thing preventing the wide use of natural gas in the UK is a lack of government policy in support of its use.
As a company, Clean Air Power has pioneered the move towards using natural gas (methane) as a fuel for heavy goods vehicles by developing patented technologies that enable an existing diesel engine to operate on a combination of diesel and methane, with minimal changes required to the base engine. Diesel engine performance and efficiency are maintained while delivering significant fuel cost savings, along with a marked reduction in carbon emissions.
Methane is a cheaper and cleaner fuel than diesel, and governments across the Continent have embraced its use.
Road hauliers in those countries have benefited from significant cost savings, and, arguably, have also a competitive advantage.
A Government policy in the UK to support and encourage the use of natural gas would benefit not only the road haulage industry, but also the economy.
John Pettitt