A united and determined front will help us get our message across
14th August 2008
Page 20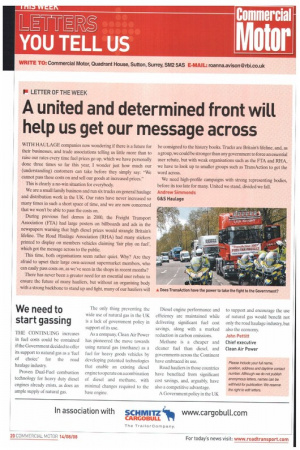 Page 20, 14th August 2008 —
A united and determined front will help us get our message across
Close
WITH HAULAGE companies now wondering if there is a future for their businesses, and trade associations telling us little more than to raise our rates every time fuel prices go up, which we have personally done three times so far this year, I wonder just how much our (understanding) customers can take before they simply say: "We cannot pass these costs on and sell our goods at increased prices."
This is clearly a no-win situation for everybody.
We are a small family business and run six trucks on general haulage and distribution work in the UK. Our rates have never increased so many times in such a short space of time, and we are now concerned that we won't be able to pass the costs on.
During previous fuel demos in 2000, the Freight Transport Association (FTA) had large posters on billboards and ads in the newspapers warning that high diesel prices would strangle Britain's lifeline. The Road Haulage Association (RI-IA) had many stickers printed to display on members vehicles claiming 'fair play on fuel', which got the message across to the public.
This time, both organisations seem rather quiet. Why? Are they afraid to upset their large own-account supermarket members, who can easily pass costs on, as we've seen in the shops in recent months?
There has never been a greater need for an essential user rebate to ensure the future of many hauliers, but without an organising body with a strong backbone to stand up and fight, many of our hauliers will be consigned to the history books. Trucks are Britain's lifeline, and, as a group, we could be stronger than any government to force an essential user rebate, but with weak organisations such as the FTA and RHA, we have to look up to smaller groups such as TransAction to get the word across.
We need high-profile campaigns with strong representing bodies, before its too late for many. United we stand, divided we fall. Andrew Simmonds