TruckNet UK's community manager Rikki Chequer talks dirty cabs, cracking cafes and secondhand motors.
14th August 2008
Page 13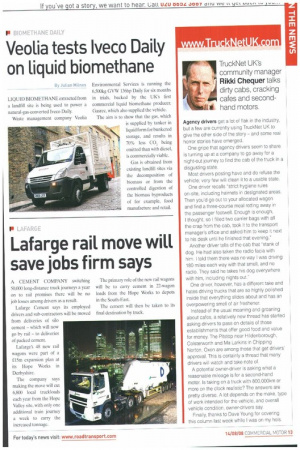 Page 13, 14th August 2008 —
TruckNet UK's community manager Rikki Chequer talks dirty cabs, cracking cafes and secondhand motors.
Close
Keywords :
Agency drivers get a lot of flak in the industry, but a few are currently using TruckNet UK to give the other side of the story — and some real horror stories have emerged.
One gripe that agency drivers seem to share is turning up at a company to go away for a night-out journey to find the cab of the truck in a disgusting state.
Most drivers posting have and do refuse the vehicle; very few will clean it to a usable state.
One driver recalls "strict hygiene rules on-site, including hairnets in designated areas. Then you'd go out to your allocated wagon and find a three-course meal rotting away in the passenger footwell. Enough is enough, I thought, so I filled two carrier bags with all the crap from the cab, took it to the transport manager's office and asked him to keep it next to his desk until he finished that evening."
Another driver tells of the cab that "stank of dog. He had also taken the radio facia with him. I told them there was no way I was driving 180 miles each way with that smell, and no radio. They said he takes his dog everywhere with him, including nights out."
One driver, however, has a different take and hates driving trucks that are so highly polished inside that everything slides about and has an overpowering smell of air freshener.
Instead of the usual moaning and groaning about cafes, a relatively new thread has started asking drivers to pass on details of those establishments that offer good food and value for money. The Pitstop near Hildenborough, Colsterworth and Ma Larkins in Chipping Norton, Oxon are among those that get drivers' approval. This is certainly a thread that many drivers will watch and take note of.
A potential owner-driver is asking what a reasonable mileage is for a second-hand motor. Is taking on a truck with 800,000km or more on the clock realistic? The answers are pretty diverse. A lot depends on the make, type of work intended for the vehicle, and overall vehicle condition, owner-drivers say.
Finally, thanks to Dave Young for covering this column last week while I was on my hois.