JC Innes loses five-year disqualification appeal
14th August 2008
Page 10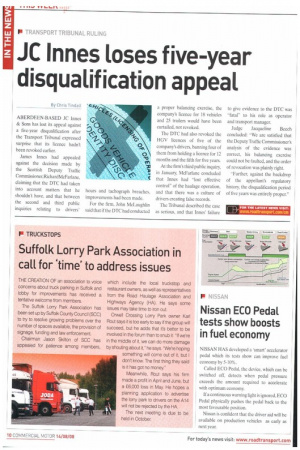 Page 10, 14th August 2008 —
JC Innes loses five-year disqualification appeal
Close
By Chris Tindat ABERDEEN-BASED JC Innes & Sons has lost its appeal against a five-year disqualification after the Transport Tribunal expressed surprise that its licence hadn't been revoked earlier.
James Innes had appealed against the decision made by the Scottish Deputy Traffic Commissioner,RichardMcFarlane, claiming that the DTC had taken into account matters that he shouldn't have, and that between the second and third public inquiries relating to drivers' hours and tachograph breaches, improvements had been made. For the firm, John McLaughlin said that if the DTC had conducted a proper balancing exercise, the company's licence for 18 vehicles and 25 trailers would have been curtailed, not revoked.
The DTC had also revoked the HGV licences of five of the company's drivers, banning four of them from holding a licence for 12 months and the fifth for five years.
At the firm's third public inquiry, in January, McFarlane concluded that Innes had "lost effective control" of the haulage operation, and that there was a culture of drivers creating false records.
The Tribunal described the case as serious, and that Innes' failure to give evidence to the DTC was "fatal" to his role as operator and transport manager.
Judge Jacqueline Beech concluded: "We are satisfied that the Deputy Traffic Commissioner's analysis of the evidence was correct, his balancing exercise could not be faulted, and the order of revocation was plainly right.
"Further, against the backdrop of the appellant's regulatory history, the disqualification period of five years was entirely proper."