Peoplre
14th August 1982
Page 8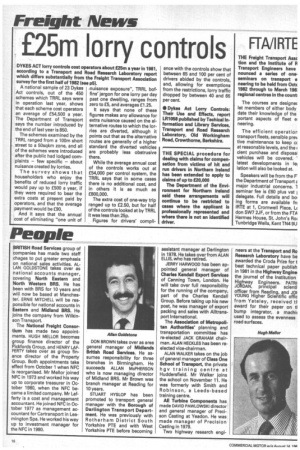 Page 8, 14th August 1982 —
Peoplre
Close
BRITISH Road Services group of companies has made two staff chages to put greater emphasis on national sales activities. ALLAN GOLDSTONE takes over as national accounts manager, covering North Eastern and North Western BRS. He has been with BRS for 10 years and will now be based at Manchester. ERNIE MITCHELL will be responsible for national accounts in Eastern and Midland BRS, He joins the company from Wilkinson Transport.
The National Freight Consortium has made two appointments. HUGH MELLOR becomes group finance director of the Pickfords Group, and HENRY LAFFERTY takes over as group finance director of the Property Group. Both appointments take effect from October 1 when NFC is reorganised. Mr Mellor joined NFC in 1973 and worked his way up to corporate treasurer in October 1980, when the NFC became a limited company. Mr Lafferty is a cost and management accountant. He joined NFC in October 1977 as management accountant for Cartransport in Leamington Spa. He worked his way up to investment manager for the NFC in 1980.
DON BROWN takes over as area general manager of Midlands British Road Services. He assumes responsibility for three branches in Birmingham. He succeeds ALLAN McPHERSON who is now managing director of Midland BRS. Mr Brown was branch manager at Reading for 10 years.
STUART HYSLOP has been promoted to transport general manager with the Borough of Darlington Transport Department. He was previously with Rotherham District South Yorkshire PTE and with West Yorkshire PTE before becoming
assistant manager at Darlington in 1978. He takes over from ALAN ELLIS, who has retired.
JERRY HARWOOD has been appointed general manager of Charles Kendall Export Services of Canning Town, London. He will take over full responsibility for the running of the company, part of the Charles Kendall Group. Before taking up his new post, he was manager of export packing and sales with Alltransport International.
The Association of Metropolitan Authorities' planning and transportation committee has re-elected JACK GRAHAM chairman. ALAN HECKLES has been reelected vice-chairman.
ALAN WALKER takes on the job of general manager of Class One School of Transport, the private hgv training centre at Huddersfield. Mr Walker joins the school on November 11. He was formerly with Smith and Robinson, a Leeds-based training centre.
AE Turbine Components has made DAVID PAWLOWSKI director and general manager of Precison Casting at Yeadon. He was made manager of Precision Casting in 1979.
Two highway research engi neers at the Transport and Ro Research Laboratory have be awarded the Croda Prize for t best technical paper publish in 1981 in the Highway Engine the journal of the Institution Highway Engineers. PATRII JORDAN, principal scienti officer from Reading, and JOE YOUNG Higher Scientific offic from Yateley, received 11 award for their paper on ti bump integrator, a machir used to assess the evenness road surfaces,
Tags
People
:
ALAN ELLIS
,
DON BROWN
,
ALLAN GOLDSTONE
,
PATRII JORDAN
,
STUART HYSLOP
,
ALAN WALKER
,
JERRY HARWOOD
,
JACK GRAHAM
,
ALAN HECKLES
,
HUGH MELLOR
,
JOE YOUNG
,
ERNIE MITCHELL
,
HENRY LAFFERTY
,
DAVID PAWLOWSKI