Controls near 1,000
14th August 1982
Page 5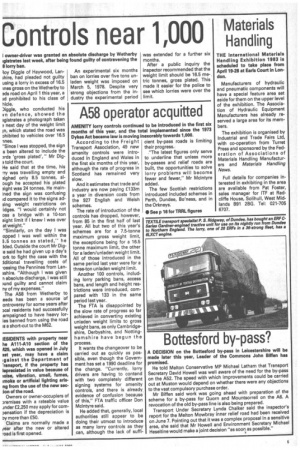 Page 5, 14th August 1982 —
Controls near 1,000
Close
I owner-driver was granted an igistrates last week, after being 8 lorry ban.
loy Diggle of Haywood, Lan;hire, had pleaded not guilty using a lorry in excess of 16.5 Ines gross on the Wetherby to ads road on April 1 this year, a id prohibited to his class of hide, )iggle, who conducted his vn defence, showed the igistrates a photograph taken a next day of the weight limit ln, which stated the road was ohibited to vehicles over 16.5
"Since I was stopped, the sign s been altered to include the )rds 'gross plated'," Mr Dig3 told the court.
He said that at the time, his -ry was travelling empty and 3ighed only 8.5 tonnes, alough he accepted his plated aight was 24 tonnes. He mainined the sign was confusing id compared it to the signs adsing weight restrictions on idges. "I would certainly not oss a bridge with a 10-ton eight limit if I knew I was over at weight."
"Similarly, on the day I was opped I was well within the 3.5 tonnes as stated," he hied. Outside the court Mr Dige said he had given up a day's ark to fight the case with the iditional travelling costs of • ossing the Pennines from Lanshire. "Although I was given absolute discharge, I was still iund guilty and cannot claim ny of my expenses."
The A58 from Wetherby to eeds has been a source of ontroversy for some years after )cal residents had successfully ampaigned to have heavy lories banned from using the road is a short-cut to the M62. absolute discharge by Wetherby found guilty of contravening the An experimental six months ban on lorries over five tons unladen weight was imposed on March 5, 1978. Despite very strong objections from the industry the experimental period was extended for a further six months.
After a public inquiry the inspector recommended that the weight limit should be 16.5 metric tonnes, gross plated. This made it easier for the police to see which lorries were over the limit.