Overtime oddities
14th August 1982
Page 13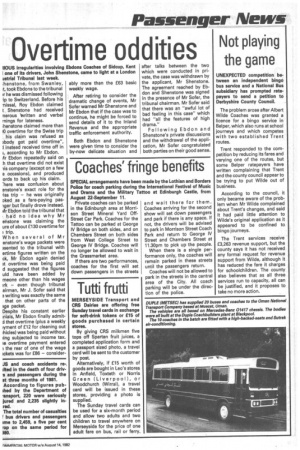 Page 13, 14th August 1982 —
Overtime oddities
Close
HOUS irregularities involving I one of its drivers, John Shen ustrial Tribunal last week. ihenstone, from Swanley, I, took Ebdons to the tribunal ir he was dismissed following ip to Switzerland. Before his -nissal, Roy Ebdon claimed t Shenstone had received nerous Written and verbal rnings for lateness.
,henstone claimed more than 10 overtime for the Swiss trip his claim was refused as 'body got paid overtime", instead received time off in 1, according to Mr Ebdon. At' Ebdon repeatedly said on h that overtime did not exist is company (except on a few e occasions), and produced ords to back up his claim. "here was confusion about enstone's exact role for the !in trip — he was originally aked as a fare-paying pasnjer but finally drove instead. Ar Ebdon told the tribunal that had no idea why Mr enstone was claiming the ure of about £130 overtime for trip.
When several of Mr enstone's wage packets were )sented to the tribunal with ertime figures written on the ck, Mr Ebdon again denied A overtime was being paid d suggested that the figures
uld have been added by meone other than his wages irk — even though tribunal airman, Mr J. Sofer said that
P. writing was exactly the same that on other parts of the
)ge packet.
Despite his constant earlier nials, Mr Ebdon finally admitthat overtime (plus a weekly iyment of £12 for cleaning out ,hides) was being paid without ling subjected to income tax. te overtime payment entered I the rear of one of the wage ickets was for £86 — consider
Ebdons Coaches of Sidcup, Kent stone, came to light at a London ably more than the £63 basic weekly wage.
After retiring to consider the dramatic change of events, Mr Sofer warned Mr Shenstone and Mr Ebdon that if the case was to continue, he might be forced to send details of it to the Inland Revenue and the appropriate traffic enforcement authority.
Both Ebdon and Shenstone were given time to consider the by-now delicate situation and after talks between the two which were conducted in private, the case was withdrawn by the applicant, Mr Shenstone. The agreement reached by Ebdon and Shenstone was signed in the presence of Mr Sofer, the tribunal chairman. Mr Sofer said that there was an "awful lot of bad feeling in this case" which had "all the features of high drama."
Following Ebdon and Shenstone's private discussions and the withdrawal of the application, Mr Sofer congratulated both parties on their good sense.