RATES STANDARDIZATION FAA ACIES EXPLODED
14th August 1936
Page 34
Page 35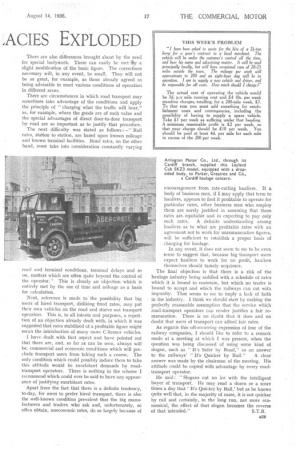 Page 34, 14th August 1936 —
RATES STANDARDIZATION FAA ACIES EXPLODED
Close
Keywords :
Solving the Problems of the Carrier
EW readers should appreci
ate that this is the third of a series of articles in which I am demonstrating the suitability of the time and mileage figures in The Commercial Motor
Tables of Operating Costs as the basis of a national scheme of stabilized haulage rates.
The cause of the series was a letter from Mr. G. W. Irwin, hon. secretary of A.R.O. Cambridge and Ely Sub-area. He sent me the minutes of a meeting of the sub-area committee, at which the question had been discussed at considerable length, the outcome being that the committee suggested II difficulties in the way of stabilization.
I gathered that the original scheme, as discussed by this committee, was to fix rates on a tonnage basis for all kinds of commodity. There are so many difficulties in the way of that system that it is no matter for surprise that the committee should, so far as this meeting was concerned, have found itself unable to do more than put forward these criticisms. Nevertheless, it was agreed to give the subject further consideration, in the hope of evolving something constructive. In his letter, Mr. Irwin suggested that I should put forward some suggestions ; hence these articles.
' Difficulties of Stabilization.
In the first contribution I dealt at length with the principal difficulty, which, as the committee truly states, must confront any body of men who set out to solve this problem, namely, that so many other trades have attempted it without 100-per-cent. success. In the second article I -dealt with such points as the prevalence of hidden rebates, the opportunity for railway companies to cut established rates, and other matters.
I come now to a suggestion that road-haulage' rates should be based on the railway :practice of charging ". what the. traffic will. bear.'r. This is not a method which tan be applied with any prospect of succeSs to 1328 road haulage. It came into operation on the railways chiefly because, as the committee agreed, they held a nation-wide monopoly at the time of the application of the principle. All the traffic was bound to be carried by the railways and they were in a position to attract low-grade traffic by offering special rates, making their profit on the high-grade traffic, which was able to pay better rates. The railways have never been able to assess the cost of carrying any particular consignment, so that their system of charges is, in effect, a confession of ineptitude.
Charges Easily Ascertainable.
Road transport can, if it will, assess the cost of every consignment which it bears. If The Commercial Motor time and mileage figures be taken as a basis, that cost, plus provision for overheads and a reasonable net profit, is ascertainable as the appropriate charge. Road transport'cannot offer special privileges to particular grades of traffic, because it has no certainty that it will invariably be given higher-grade traffic at such rates as will compensate for those concessions.
It must, however, inevitably differentiate as between one class of traffic and another, but as the differentiation necessary actually turns upon matters which are already provided for in the time and mileage figttres, those figures remain a satisfactory basis for stabilized rates. These conditions turn mainly on difficulties in handling and these, again, on delays at terminals. As, according to the time and mileage method, delays 'at terminals are taken int@ consideration, provision is thus made for. special conditions attaching to certain classes of traffic.
There are also differences brought about by the need for special bodywork. These can easily be met by a slight modification of the basic figure. The corrections necessary will, in any event, be small. They will not be so great, for example, as those already agreed as being advisable to meet various conditions of operation in different areas.
There are circumstances in which road transport may sometimes take advantage of the conditions and apply the principle of " charging what the traffic will bear," as, for example, where the goods are of such value and the special advantages of direct door-to-door transport by road are so important as to justify that procedure.
The next difficulty was stated as follows :—" Rail rates, station to station, are based upon known mileage and known terminal facilities. Road rates, on the other hand, must take into consideration constantly varying road and terminal conditions, terminal delays and so on, matters which are often quite beyond the control of the operator." This is clearly an objection which is entirely met by the use of time and mileage as a basis for calculation.
Next, reference is made to the possibility that big users of hired transport, disliking fixed rates, may put their own vehicles on the road and starve out transport operators. This is, to all intents and purposes, a repetition of an objection already dealt 'with, in which it was suggested that rates stabilized at a profitable figure might mean the introduction of many more C-licence vehicles.
• 1 have dealt with that aspect and have pointed out that there are, and, so far as can be seen, always will be, commercial and economic conditions which will preclude transport users from taking such a course. The only condition which could possibly induce them to take this attitude would be exorbitant demands by roadtransport operators. There is nothing in the scheme I recommend which could ever be said to have any appearance of justifying exorbitant rates.
Apart from the fact that there is a definite tendency, to-day, for users to prefer hired transport, there is also the well-known condition prevalent that the big manufacturers and traders who ask and, unfortunately, so often obtain, uneconomic rates, do so largely because of encouragement from rate-cutting hauliers. If a body of business men, if I may apply that term to hauliers, appears to find it profitable to operate for particular rates, other business men who employ
them are surely justified in assuming that those rates are. equitable and in expecting to pay only
such rates. A definite understanding among hauliers as to what are profitable rates with an agreement not to work for unremunerative figures, will be sufficient to establish a proper basis of charging for haulage.
In any event, it does not seem to me to be even sense to suggest that, because big transport users expect hauliers to work for no profit, hauliers themselves should tamely acquiesce.
The final objection is that there is a risk of the haulage industry being saddled with a schedule of rates which it is bound to maintain, but which no trader is bound to accept and which the railways can cut with impunity. That seems to me to imply a lack of faith in the industry. I think we should start by making the perfectly reasonable assumption that the service which road-transport operators can render justifies a fair remuneration. There is no doubt that it does and no doubt that users of transport can afford fair rates.
As regards this oft-recurring expression of fear of the railway companies, I should like to refer to a remark made at a meeting at which I was present, when the question was being discussed of using some kind of slogan, such as "It's Safer by Road," as an answer to the railways' It's Quicker by Rail." A clear answer was made by the chairman of the meeting. His attitude could be copied with advantage by every roadtransport operator.
He said : "Slogans cut no ice with the intelligent buyer of transport. He may read a dozen or a score times a day that ' It's Quicker by Rail,' but as he knows quite well that, in the majority of cases, it is not quicker by rail and certainly, in the long run, not more economical, the effect of that slogan becomes the reverse of that intended." S.T.R.