Traffic Census on Class II Roads
14th August 1936
Page 31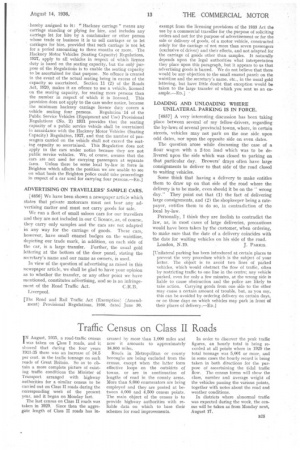 Page 31, 14th August 1936 —
Traffic Census on Class II Roads
Close
IN August, 1935, a road-traffic census was taken on class I roads, and it showed that during the four years 1931-35 there was an increase of 34.5 per cent, in the traffic tonnage on such roads of Great Britain. So as to obtain a more complete picture of existing traffic conditions the Minister of Transport arranged with highway authorities for a 'similar census to be carried out on Class II roads during the corresponding week of the present year, and it began on Monday last.
The last census on Class II roads was taken in 1929. Since then the aggregate length of Class II roads has in
creased by more than 1,000 miles and now it amounts to approximately 16,800 miles.
Roads in Metropolitan or county boroughs are being excluded from the census, except when the latter form effective loops on the outskirts of towns, or are in continuation of lengths of road in the county areas. More than 8,000 enumerators are being employed and they are posted at between 4,000 and 4,500 census points. The main object of the census is to provide highway authorities with reliable data on which to base their schemes for road improvements.
In order to discover the peak traffic figures, an hourly total is being recorded at all points where in 1929 the total tonnage was 5,001 or more, and in some cases the hourly record is being taken in both directions for the purpose of ascertaining the tidal traffic flow. The census forms will show the class, number and average weight of the vehicles passing the various points, together with notes about the road and weather conditions.
In districts where abnormal traffic was expected during the week, the census will be taken as from Monday next, August 17. B25