Big Effort to Avoid Licensing Delays
14th August 1936
Page 25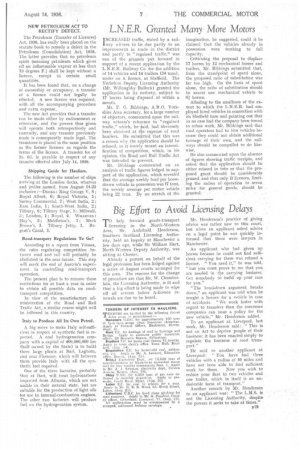 Page 26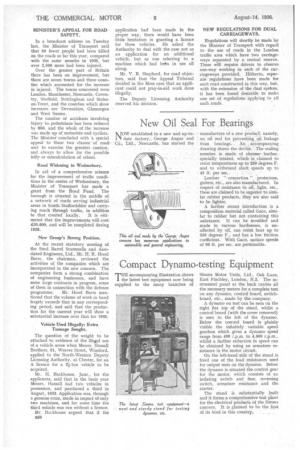 Page 25, 14th August 1936 —
Big Effort to Avoid Licensing Delays
Close
help forward goods-transport elicensing in the North-Western Area, Mr. Archibald Henderson, Southern Scotland Licensing Authority, held an inquiry at Manchester a few days ago, while Sir William Hart, North-Western Deputy Authority, was sitting at Chester.
Already a protest on behalf of the legal profession has been lodged against a series of August courts arranged for this area. The reasons for the change of procedure are that Mr. W. Chamberlain, the Licensing Authority, is ill and that a big effort is being made to wipe off all arrears before A-licence renewals are doe to be heard.
TENDERS OF INTEREST TO HAULIERS.
MENDER.S are invited by the following (latest dates glven in parenthesesl:— Haslemere U.D.C. for approximately 100 i.0119 of '4rin.-1.4-M.-gauge clean limestone chinpings. Apply to Council Offices, Haelemere, Surrey. (Sept. 5).
Kent CC. for haulage of coal to Lyrninge and Bridge. Apply to assistant public assistance officer, 29 Bouverie Square, Folkestone.
Bradford TR. for house coal during 12 months Apply to town clerk's office. Town Hall, Brad: ford. (Aug Breconshire E.C. for household coal, anthracite, etc. Apply to Mr. A. Leonard, Education office. Brecon. !Aug. 31). BristQl Electricity, Do.ept., for 13,000 tons of scini-bituminous or biturninens unwashed steam enal for four months commencing Sept 1. Apply to Mr. A J. Newman, electricity dept., Colston Avenue, Bristol. (Aug. 19). Haley tr,D.C. for 6,000 tons of gas nuts delivered in monthly quantities, Apply to gasworks, 'Leeds Ro,ld, Ilkley. (hug. 20), Luton E.C. for coal to schools for a year. Apply to Mr. IT. R. B. Wood, 63, Brook Street, Luton. (Aug. 21). Litherland tear. for hard stone pitching for road purposes.. Apply to Mr. G. Poneford, Council offices, Litherland, Liverpool, 21. lAug. 19).
All applications must be • accompanied by a stamped, addressed foolscap envelope.
Mr. Henderson's practice of giving advice was rather new to this court, but when an applicant asked advice on a legal point he was quickly informed that there were lawyers in Manchester.
An applicant who had given up horses because he could not find sufficient carrying for them was refused a licence, "You need it," he was told, "but you must prove to me that you are needed in the carrying business. Get somebody to build up your case for you."
"The breakdown argument breaks down," an applicant was told when he sought a licence for a vehicle in case of accidents. "We work faster with regard to transfers than the insurance companies can issue a policy for the new vehicle," Mr. Henderson added.
To an, applicant at Liverpool, last week, Mr. Henderson said:." This is not an Act to deprive people of their business; it has been enacted simply to regulate the business of road transport."
He said to another applicant at Liverpool: "You have had three vehicles with a radius of 50 miles and have not been able to find sufficient work for them. Now you wish to reduce your fleet to two vehicles and one trailer, which in itself is an undesirable form of transport." Another, remark by Mr., Henderson to _an, applicant was: ." The L.M.S. is not the Licensing Authority, despite the powers it seeks to take at times."
MINISTER'S APPEAL FOR ROAD SAFETY.
In a broadcast address on Tuesday • last, the Minister of Transport said that 59 fewer people had been killed on the roads so far this year, compared with the same months in 1935, but over 2,590 more had been injured.
Over the greater part of Britain there has been an improvement, but there are seven towns and three comaties which accounted for the increase in injured. The towns concerned were London, Manchester, Newcastle, Coventry, Sheffield, Nottingham and Stokeon-Trent, and the counties which show increase, are • Devonshire, Glamorgan and West Sussex.
The number of accidents involving injury to pedestrians has been reduced by 800, and the whole of the increase was made up of motorists' and cyclists. The Minister concluded with•'a special appeal to these two classes— of road user to exercise the greatest caution, and always to allow for the possible folly or miscalculation of others.
Road Widening in Wednesbury.
In aid of a comprehensive scheme for the improvement of traffic conditions in the centre of Wednesbury, the Minister of Transport has made a grant from the Road Fund. The borough is situated in the middle of a network of roads serving inrhiqtrial areas in South Staffordshire and carrying much through traffic, in addition
to that created locally. It is estimated that the improvements will cost £30,600, and will be completed during 1938.
New Group's Strong Position.
At the recent statutory meeting of the Steel Barrel Scammells and Associated Engineers, Ltd., Mr. H. R. Hood Barrs, the chairman, reviewed the activities of the companies which are incorporated in the new concern. The companies form a strong combination of engineering businesses, and have some large contracts in progress, some of them in connection with the defence programme. Mr. Hood Barrs mentioned that the volume of work in hand largely exceeds that in any corresponding period, and said that the production for the current year will show a substantial increase over that for 1995.
Vehicle Used Illegally: Extra Tonnage Sought.
The question of the .weight to be attached to evidence of the ille,gal use of a vehicle arose when Messrs. Hassan. Brothers, 91, Weaver Street, Winsford, • applied to the North-Western Deputy Licensing Authority, at Chester, for an A licence for a 24-ton vehicle to be acquired.
Mr. H. Backhouse, Junr., for the applicants, said that in the basic year Messrs. Hassall had tart) vehicles in possession, and purchased a third in August, 1933, Application was, through a genuine error, made in respect of only two machines, and for some time the . third vehicle was run without a licence. Mr. Backhouse argued that if the B20 application had been made in the proper way, there would have been little hesitation in granting a licence for three vehicles. He asked the Authority to deal with the case not as an application for an additional vehicle, but as one referring to a machine which had been in use all along.
Mr. V. R. Shepherd, for road objectors, said that the Appeal Tribunal decided in the Moss case that an applicant could not pray-in-aid work done illegally.
The Deputy Licensing Authority reserved his decision. • NEW REGULATIONS FOR DUAL CARRIAGEWAYS.
Regulations will shortly be made by the Minister of Transport with regard to the use of roads in the London traffic area which have two carriageways separated by a central reserve. These will require drivers to observe one-way working in each of the carriageways provided. Hitherto, separate regulations have been made for each road constructed in this way, but, with the extension of the dual system, it has been found desirable to make one set of regulations applying to all such roads.
Tags
Locations
:
Manchester
,
Chester
,
Coventry
,
Sheffield
,
Nottingham
,
London
,
Stokeon-Trent
,
Liverpool
,
Bristol
,
Surrey
,
Newcastle