NEW PETROLEUM ACT TO RECTIFY DEFECT.
14th August 1936
Page 25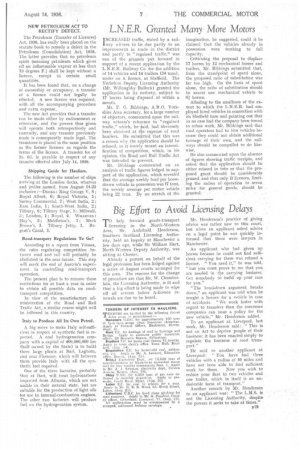 Page 25, 14th August 1936 —
NEW PETROLEUM ACT TO RECTIFY DEFECT.
Close
The Petroleum (Transfer of Licences) Act, 1936, has really been placed on the statute book to remedy a defect in the Petroleum (Consolidation) Act, 1928. The latter provides that no petroleum spirit (meaning petroleum which gives off an inflammable vapour at less than 73 degrees F.) shall be kept without a licence, except in certain small quantities.
It has been found that, on a change of ownership or occupancy. a transfer of a licence could not legally be effected. A new licence was required, with all the accompanying procedure and extra expense.
The new Act provides that a transfer can he made either by endorsement or otherwise, and the powers thus given will operate both retrospectively and currently, and any transfer previously made is consequently made legal. The transferee is placed in the same position as the former licensee as regards the terms of the licence. A transfer fee of 2s. 6d. is payable in respect of any transfer effected after July 14, 1936.
Shipping Guide for Hauliers.
The following is the number of ships arriving at the London docks, wharves and jetties named, from August 14-22 inclusive ;—Doeics: Ring George V. 8; Royal Albert, 6; Royal Victoria, 1; Surrey Commercial, 7; West India, 2; East India, 1; South-West India, 2; Tilbury, 8; Tilbury Stage, 3; Millwall, 3; London, 1; Royal, 4: WHARVES Hay's, ö; Middleton's, 1; Mark Brown's, 1, Tilbury Jetty, 1, Regent's Canal, I.
Road-transport Regulations To Go?
According to a report from Vienna, the rules regulating competition between road and rail will probably be abolished in the near future. This step will mark the end of Austria's experiment in controlling road-transport operation.
The present plan is to remove these restrictions for at least a year in order to obtain all possible data on roadtransport competition.
In view of the unsatisfactory administration of the Road and Rail Traffic Act, a similar course might well be followed in this country.
Italy to Produce All Its Own Petrol.
A big move to make Italy self-sufficient in respect of synthetic fuel is reported. A coal hydrogenation company with a capital of 400,000,000 lire (half owned by the State) is to build three large plants at Bari, Leghorn, and near Florence, which will between them provide Italy with all the synthetic, fuel required.
One of the three factories, probably that at Bari, will treat hydrocarbons imported from Albania, which are not usable in their natural state, but are suitable for the production of light oils for use in internal-combustion engines. The other two factories will produce fuel on the hydrogenatien system. .