Rail Delays to Cause Labour Dispute?
14th August 1936
Page 24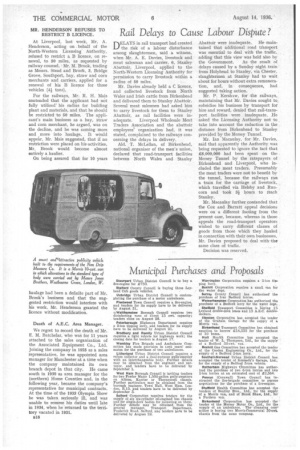 Page 24, 14th August 1936 —
Rail Delays to Cause Labour Dispute?
Close
DELAYS in rail transport had created the risk of a labour disturbance among slaughtermen, said a witness, when Mr. A. E. Davies, livestock and meat salesman and carrier, 6. Stanley Abattoir, Liverpool, applied to the North-Western Licensing Authority for permission to carry livestock within a radius of 50 miles.
Mr. Davies already held a C licence, and collected livestock from North Wales and Irish cattle from Birkenhead and delivered them to Stanley Abattoir. Several meat salesmen had asked him to carry livestock for them to Stanley Abattoir, as rail facilities were inadequate. Liverpool Wholesale Meat Traders Association and the abattoir employees' organization had, it was stated, complained to the railways concerning the delays in delivery.
Aid. T. McLellan, of Birkenhead, national organizer of the men's union, declared that road-transport facilities between North Wales and Stanley Abattoir were inadequate. Hemaintained that additional road tfansport was essential to deal with the traffic, adding that this view was held also by the Government. As the result of delays caused by a Sunday night train from Holyhead to Stanley, via Chester, slaughtermen at Stanley had to wait about for hours without extra remuneration, and, in consequence, had suggested taking action.
Mr. P. Kershaw, for the railways, maintaining that Mr. Davies sought to.. subsidize his business by transport for hire and reward, denied that rail-transport facilities were inadequate. He . asked the Licensing Authority not to take into account the reduction in the distance from Birkenhead to Stanley provided by the Mersey Tunnel.
Mr. Ian Macaulay, for Mr. Davies, said that apparently the Authority was being requested to ignore the fact that £8,000,000 had been spent on the Mersey Tunnel by the ratepayers of Birkenhead and Liverpool, who included the meat traders. Presumably the meat traders were not to benefit by the tunnel, because the railways ran a train for the carriage of livestock, which travelled via Helsby and Ruecorn and took 3f hours to reach Stanley.
Mr. Macaulay further contended that the Cox and Barratt appeal decisions were on a different footing from the present case, because, whereas in those appeals the road-tra,nsport operators wished to carry different classes of goods from those which they hauled in connection with their own businesses, Mr. Davies proposed to deal with the. same class of traffic.
Decision was reserved.