Passing Comments
14th August 1936
Page 20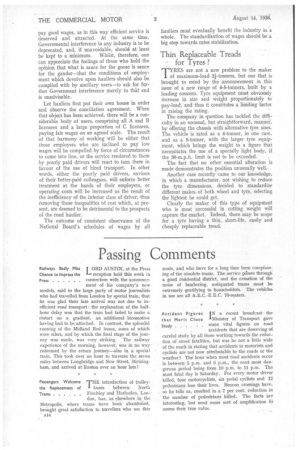 Page 21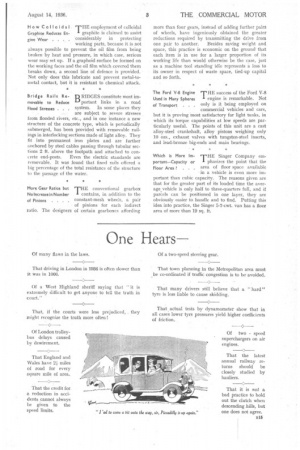 Page 20, 14th August 1936 —
Passing Comments
Close
Railways Badly Miss I ORE) AUSTIN, at the Press Chance to Impress the reception held this week in
Press connection with the announce ment of his company's new models, said to the large party of motor journalists who had travelled from London by special train, that he was glad their late arrival was not due to inefficient road transport: the explanation of the halfhour delay was that the train had failed to make a restart on a gradient, an additional locomotive having had to be attached. In contrast, the splendid running of the Midland Red buses, some of which were oilers, and by which the final stage of the journey was made, was very striking. The railway experience of the morning, however, was in no way redeemed by the return journey—also in a special train. This took over an hour to traverse the seven miles between Longbridge and New Street, Birmingham, and arrived at Euston over an hour late !
Passengers Welcome THE introduction of trolley.
the Replacement of I buses between North Trams Finchley and ilarlesden, London, has, as elsewhere in the Metropolis, where trains have been abandoned, brought great satisfaction to travellers who use this
al4 '
route, and who have for a long time been complaining of the obsolete trains. The service pisses through a good residential district, and the cessation of the noise of lumbering, antiquated trams must be extremely gratifying to householders. The vehicles in use are all A.E.C.-E.E.C. 70-seaters.
Accident Figures IN a recent broadcast the that Merit Close AMinister of Transport gave Study some vital figures on road accidents that are deserving of careful study by all those working towards the reduction of street fatalities, but was he not a little wide of the mark in stating that accidents to motorists and cyclists are not now attributable to the roads or the weather? The hour when most road accidents occur is between 5 p.m. and ii p.m., the next most dangerous period being from 10 p.m. to 11 p.m. The most fatal day is Saturday. For every motor driver killed, four motorcyclists, six pedal cyclists and 12 pedestrians lose their lives. Beacon crossings have, so he tells us, resulted in a 7 per cent, reduction in the number of pedestrians killed. The facts are interesting, but need some sort of amplification ti assess their true value.
How Colloidal Graphite Reduces En gine Wear . . . How Colloidal Graphite Reduces En gine Wear . . .
THE employment of colloidal graphite is claimed to assist 'considerably in protecting working parts, because it is not always possible to prevent the oil film from being broken by heat and pressure, in which case, serious wear may set up. If a graphoid surface be formed on the working faces and the oil film which covered them breaks down, a second line of defence is provided. Not only does this lubricate and prevent metal-tometal contact, but it is resistant to chemical attack.
BRIDGES constitute most important links in a road system. In some places they are subject to .severe stresses from flooded rivers, etc., and in one instance a new structure of the concrete type, Which is periodically submerged, has been provided with removable railings in interlocking sections made of light alloy. They fit into permanent iron plates and are further anchored by steel cables passing through tubular sections 2 ft. above the footpath and attached to con
crete end-posts. Even the electric standards are removable. It was found that fixed rails offered a big percentage of the total resistance of the stiucture to the passage of the water. Bridge Rails Removable to Reduce Flood Stresses More Gear Ratios but THE conventional gearbox No Increase in Number contains, in addition to the of Pinions . . . . constant-mesh wheels, a pair of pinions for each indirect ratio. The designers of certain gearboxes affording more than four gears, instead of adding further pairs of wheels, have ingeniously obtained the greater reductions required by transmitting the drive from one pair to another. Besides saving weight and space, this practice is economic on the ground that each item is in use for a larger proportion of its working life than would otherwise be the case, just as a machine tool standing idle represents a loss to its owner in respect of waste space, tied-up capitaland so forth.
The Ford V-8 Engine THE success a the Ford V-8
Used in Many Spheres engine is remarkable. Not of Transport . . . only is it being employed on commercial vehicles and cars, but it is proving Most satisfactory for light tanks, in which its torque capabilities at low speeds are particularly useful. The points of this unit are a cast alloy-steel crankshaft, alloy pistons weighing only 10 ors., exhaust valves with tungsten-steel inserts, and lead-bronze big-ends and main bearings.
Which is More ImTHE Singer Company em portant—Capacity or phasizes the point that the Floor Area ? . . area of floor space available in a vehicle is even more important than cubic capacity. The reasons given are that for the greater part of its loaded time the average vehicle is only half to three-quarters full, and if parcels can be positioned in one layer, they are obviously easier to handle and to find. Putting this idea into practice, the Singer 5-7-cwt. van has a floor area of more than 19 sq. ft.