Should Licensing be Abandoned?
14th August 1936
Page 19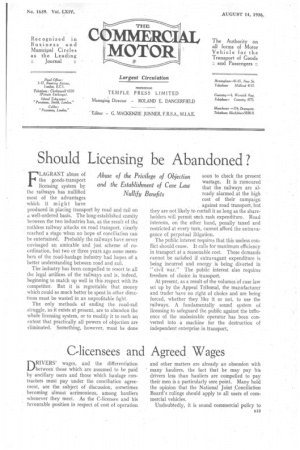 Page 19, 14th August 1936 —
Should Licensing be Abandoned?
Close
Abuse of the Privilege of Objection and the Establishment of Case Law Nullify Benefits
FLAGRANT abuse of the goods-transport licensing system by the railways has nullified most of the advantages which it might have produced in placing transport by road and rail on a well-ordered basis. The long-established enmity between the two industries has, as the result of the ruthless railway attacks on road transport, clearly reached a stage when no hope of conciliation can be entertained. Probably the railways have never envisaged an amicable and just scheme of coordination, but two or three years ago some members of the road-haulage industry had hopes of a better understanding between road and rail.
• The industry has been compelled to resort to all the legal artifices of the railways and is, indeed, beginning to match up well in this respect with its competitor. But it is regrettable that money which could so much better be spent in other directions must be wasted in an unprofitable fight.
The only methods of ending the road-rail struggle, as it exists at present, are to abandon the whole licensing system, or to modify it to such an extent that practically all powers of objection are eliminated. Something, however, must be done soon to check the present wastage. It is rumoured that the railways are already alarmed at the high cost of their campaign against road transport, but they are not likely to curtail it so long as the shareholders will permit such rash expenditure. Road interests, on the other hand, penally' taxed and restricted at every turn, cannot afford the extravagance of perpetual litigation.
The public interest requires that this useless conflict should cease. It calls for maximum efficiency in transport at a reasonable cost. These demands cannot be satisfied if extravagant expenditure is being incurred and energy is being diverted in " civil war." The public interest also requires freedom of choice in transport.
At present, as a result of the volumes of case law set up by the Appeal Tribunal, the manufacturer and trader have no right of choice and are being forced, whether they like it or not, to use the railways. A fundamentally sound system of licensing to safeguard the public against the influence of the undesirable operator has been converted into a machine for the destruction of independent enterprise in transport.