BELFAST BUS . OWNERS' COUNTER-OFFENSIVE.
14th August 1928
Page 66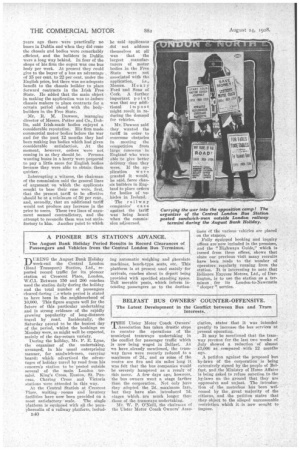 Page 66, 14th August 1928 —
BELFAST BUS . OWNERS' COUNTER-OFFENSIVE.
Close
The Latest Development
in the Conflict between Bus and Tram Interests.
THE 'Ulster Motor Coach Owners' Association has taken drastic steps to counter the operations of the municipal tramways undertaking in the conflict for passenger traffic which is now being waged in Belfast. As we have already mentioned, • the tramWay fares were recently reduced to maximum of 2d., and as some of the routes are five and Six miles long it was felt that the bus companies would be severely hampered as a resultof this move. A few days ago, however, the •bus owners went a stage farther than the corporation. Not Only have they adopted the 2d. maximum faro, but they have also introduced ld, stages which are much longer than those of the tramways undertaking.
Mr. W. P. O'Neill, the chairman of the Ulster Motor Coach Owners' Asso elation, states that it was intended greatly to increase the bus services at present ()berating.
It may be mentioned that the tramWay reyettue for the last two weeks of July showed a reduction •of almost £3,000 as compared with 12 months ago.
• A petition against the proposed bus by-Iaws of the corporation is being extensively signed by the people of Belfast, and'the Ministry of Home Affairs is being 4sked to refuse sanction to the .by-laws n the ground that they are oppressiv and unjust. The introduction of the motorbus has been welcomed b the . great majority of the citizens, and the petition states that they object to the alleged unreasonable restriction which it is now sought to impose.