Should Licence or Permit come First ?
14th April 1950
Page 32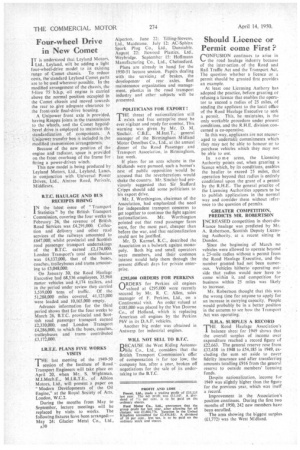 Page 32, 14th April 1950 —
Should Licence or Permit come First ?
Close
rONFUSION continues to arise in
the road haulage industry because of the inter-action . of the Road and Rail Traffic Act and the Transport Act. The question whether a licence or a permit should be granted first provides an example.
At least one Licensing Authory has adopted the practice, before granting or refusing a licence that enables the operator to exceed a radius of 25 miles, of sending the applicant to the local office of the Road Haulage Executive to seek a permit. This, he maintains, is the only workable procedure under present conditions, and the R.H.E. division concerned is co-operative.
In this way, applicants are not encouraged to undertake commitments which they may not be able to honour or to purchase vehicles which they may nut be able to use.
In s o me areas, the Licensing Authority points out, when granting a licence which, by its conditions, enables the haulier to exceed 25 miles, that operation beyond that radius is entirely conditional upon the grant of a permit by the R.H.E. The general practice of the Licensing Authorities appears to be to publish applications in the normal way and consider them without ieference to the question of permits.
GREATER COMPETITION, PREDICTS MR. ROBERTSON
INCREASED competition in short-dis
tance haulage was predicted by Mr. A. Robertson, Scottish Deputy Licensing Authority. at a recent sitting its Dundee.
Since the beginning of March no vehicles were allowed to operate beyond a 25-mile radius without a permit from the Road Haulage Executive, and the number granted had not been numerous. Vehicles hitherto operating outside that radius would now have to come within it, and competition for business within 25 miles was likely to increase.
Mr. Robertson thought that this was the wrong time for anyone-to apply for an increase in carrying capacity. People would probably be in a better position in the autumn to see how the Transport
Act was operating. •
R.H.A. SURPLUS A RECORD
THE Road Haulage Association's balance sheet for 1949 shows that the overall surplus of income over expenditure reached a record figure of £22,663. The general reserve rose from £32.438 in 1948 to £54,185 in 1949, excluding the sum set aside to cover fidelity insurance and after transferring amounts totalling £916 from the general reserve to outside members' licensing funds.
Despite nationalization, income for 1949 was slightly higher than the figure for the previous year, which was itself a record.
Improvement in the Association's position continues. During the first two months of 1950, 242 new members have been enrolled.
The area showing the biggest surplus (£1,772) was the West Midland.