A NEW B.S.A. Front-drive
13th October 1931
Page 67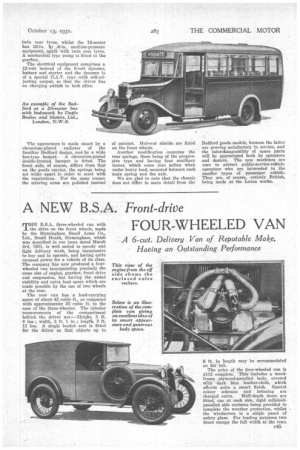 Page 68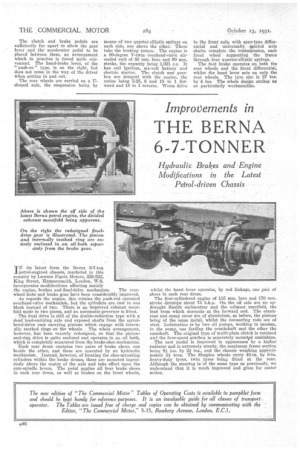 Page 67, 13th October 1931 —
A NEW B.S.A. Front-drive
Close
FOUR-WHEELED VAN
A 6cwt. Delivery Van of Reputable Make, Having an Outstanding Performance
THE B.S.A. three-wheeled van with the drive on the front wheels, made by the Birmingham Small Arms Co., Ltd., Smell Heath, Birmingham which was described in our issue dated March 3rd, 1931, is well suited to speedy and light delivery work, being inexpensive to buy and to operate, and having quite unusual power for a vehide of its class. The company has now produced a fourwheeled van incorporating precisely the same size of engine, gearbox, front drive and suspension, but having the added stability and extra load space which are made possible by the use of two wheels at the rear.
The new van has a load-carrying space of about 42 cubic ft., as compared with approximately 35 cubic ft. in the case of the three-wheeler. The interior measurements of the compartment behind the driver are :—Height, 3 ft. 4 ins. ; width, 3 ft. 1 in.; length, 3 ft. 11 ins. A single bucket seat is fitted for the driver so that objects up to 6 ft. in length may be accommodated on his left.
The price of the four-wheeled van is £112 complete. This includes a woodframe plywood-panelled body, covered • With dark blue leather-cloth, which affords quite a smart finish. Special colour schemes and lettering are charged extra. Half-depth doors are fitted, one at each side, rigid celluloidpanelled side curtains being provided to complete the weather protection, whilst the windscreen is a single panel of safety glass. For loading purposes two doors occupy the full width at the rear. The clutch and brake pedals are sufficiently far apart to allow the gear lever and the accelerator pedal to be placed between them, an arrangement which in practice is found quite convenient. The hand-brake lever, of the " push-on " type, is on the right, but does not come in the way of the driver when getting in and out.
The rear wheels are carried on a Ushaped axle, the suspension being by means of two quarter-elliptic springs on each side, one above the other. • These take the braking torque. The engine is a 90-degree V-twin overhead-valve aircooled rmit of 85 mm. bore and 90 mm. stroke, the capacity being 1,021 c.c. It has coil ignition, six-volt battery and electric starter. The clutch and gearbox are integral with the engine, the ratios being 5.25, 8 and 15 to 1 forward and 18 to 1 reverse. Worm drive to the front axle, with spur-type differential and universally Atinted axle shafts complete the transmission, each front wheel Supporting the frame through four quarter-elliptic springs.
The foot brake operates on both the rear wheels and the front differential, whilst the hand lever acts on only the rear wheels. The tyre size is 27 ins. by 4 ins. The whole design strikes us as particularly workmanlike.