LIVERPOOL'S GREEN BUSES WITHDRAWN
13th October 1931
Page 62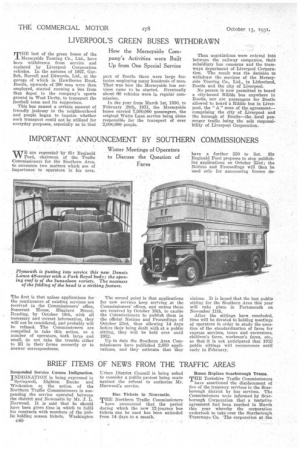 Page 62, 13th October 1931 —
LIVERPOOL'S GREEN BUSES WITHDRAWN
Close
How the Merseyside Company's Activities were Built Up from One Special Service TtlE last of the green buses of the Merseyside Touring Co., Ltd., have been withdrawn from service and replaced by Liverpool Corporation vehicles. In the autumn of 1927, Garlick, Burrell and Edwards, Ltd., at the garage of which in Hawthorne Road, Bootle, upwards of 200 men were then employed, started running a bus from that depot to the company's sports ground in West Derby, to transport the football team and its supporters.
This bus caused a certain amount of friendly jealousy in the neighbourhood and people began to inquire whether such transport could not be utilized for everyday purposes, especially as in that part of Bootle there were large factories employing many hundreds of men. That was how the Merseyside bus services came to be started. Eventually about 60 vehicles were in regular commission.
In the year from March 1st, 1930, to February 28th, 1931, the Merseyside buses carried 7,500,000 passengers, the original Watts Lane service being alone responsible for the transport of over 2,000,000 people.
Then negotiations were entered into between the railway companies, their subsidiary bus concerns and the tramways department of Liverpool Corporation. The result was the decision to withdraw the services of the Merseyside Touring Co., Ltd., in Litherland, Bootle and the city of Liverpool.
No person is now permitted to board a city-bound Ribble bus anywhere in Bootle, nor are passengers for Bootle allowed to board a Ribble bus in Liverpool, the " A " zone of the agreement— comprising the city of Liverpool and the borough of Bootle—the local passenger traffic being the sole responsibility of Liverpool Corporation.