COMMISSIONERS AND TRAMWAYS PROTECTION
13th October 1931
Page 61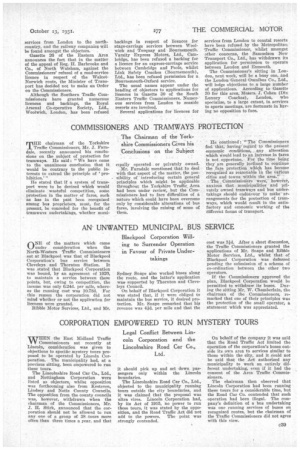 Page 61, 13th October 1931 —
COMMISSIONERS AND TRAMWAYS PROTECTION
Close
Keywords :
The Chairman of the Yorkshire Commissioners Gives his Conclusions on the Subject
MHE chairman of the Yorkshire 1 Traffic Commissioners, Mr. J. Ferndale, recently announced his conclusions on the subject of protection for tramways. He said: "We have come to the unanimous conclusion that it would be contrary to the public interests to extend the principle of 'prohibition.'" He stated that if a system of transport were to be devised which would eliminate wasteful competition, sothe protection in the matter of fares, such as has in the past been recognized among bus proprietors, must, for the present, be conceded for the benefit of tramways undertakings, whether muni cipally operated— or privately owned. Mr. Ferndale mentioned that to deal with that aspect of the matter, the possibility of " introducing certain general principles which might be applicable throughout the Yorkshire Traffic, Area had been. under review, but the Commissioners had to face difficulties of a nature which could have been overcome only by considerable 'alterations of bus fares, involving the raising of some of them.
He continued: "" The Commissioners feel that, having regard to the present .ecenornic conditions, any alteration which Would lead to an increase in fares is not opportune. For the time being they are generally, inclined to continoe the'fare protection which has become recognized as reasonable in the various cities and towns within the area."
. The Commissioners were; howeVet, anxious that municipalities and privately owned trarnWays and bus undertakings should endeavour to make arrangements for the protection of tramways, which would result in the satisfactory and economic working of the different forms of transport.