Municipal Purchases and Proposals
13th October 1931
Page 57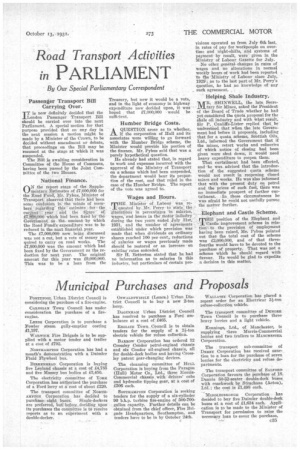 Page 57, 13th October 1931 —
Municipal Purchases and Proposals
Close
PONTYPOOL Urban District Council is considering the purchase of a fire-engine.
CARDIGAN Town Council has under consideration the purchase of a fireengine.
LEEDS Corporation is to purchase a Fowler steam gully-emptier costing £1,197.
WARWICK Fire Brigade is to be supplied with a motor tender and trailer at a cost of £792.
NORTHAMPTON Corporation has had a month's demonstration with a Daimler Fluid Flywheel bus.
BIRKENHEAD Corporation is buying five Leyland chassis at a cost of £4,785 and five Massey bus bodies at £3,450.
The electricity committee of Yoas. Corporation has authorized the purchase of a Ford lorry at a cost of about £220.
The transport committee of NORTHAMPTON Corporation has decided to
purchase. eight buses'. Single-deckers are preferred, but before deciding ubon its purchases the committee is to receive reports as to an experiment with a double-decker.
OSWALDTWISTLE (Lancs.) Urban District Council is to buy a new 2-ton lorry.
DAGENHAM Urban District Council has resolved to purchase a Ford ambulance at a cost of £465.
REIGATE Town Council is to obtain tenders for the supply of a 2i-ton electric vehicle for refuse collection.
BARROW Corporation has ordered 12 Crossley Condor petrol-engined chassis and six Condor oil-engined chassis, all for double-deck bodies and having Crossley patent gear-changing devices.
The cleansing committee of Hula, Corporation is buying from the Paragon (Hull) Motor Co., Ltd., three MorrisCommercial chassis with drivers' cabs and hydraulic tipping gear, at a cost of £306 each.
SOUTHAMPTON Corporation is seeking tenders for the supply of a six-cylinder 90 b.h.p. turbine fire-engine of 500-700gallon capacity. Further details can be obtained from the chief officer, Fire Brigade Headquarters, Southampton, and tenders have to be in by October 24th. WALLASEY Corporation has placed repeat order for an Eleetricar 34-ton refuse-collection vehicle.
The transport committee of Dusoss Town Council is to purchase three heavy lorries and a light vehicle.
Kennings, Ltd., of Manchester, is supplying three Morris-Commercial lorries and two trailers to MANCHESTER
Corporation. •
The transport sub-committee of DERBY Corperation has received sanction to a loan for the purchase of seven lorries for the electricity and refuse departments.
The transport committee of SALFORD Corporation favours the purchase of .18, Dennis 50-52-seater double-deck buses with coacithork by Strachans (A.cton), Ltd.; the cost is £1,498 each.
MIDDLESBROUGH. Corporation has decided to buy five Daimler double-deck buses at a cost of £1,634 each. Application is to be made to the Minister of Transport for permission to raise the
necessary loan to cover the purchase. •