OPINIONS and O UERIES
13th November 1942
Page 32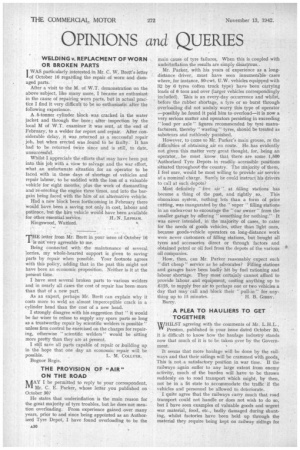 Page 35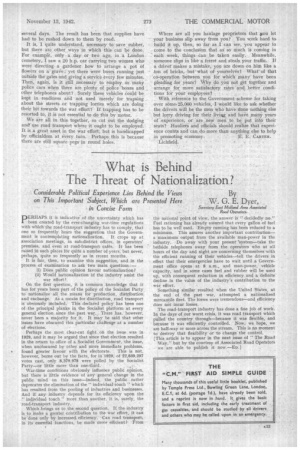 Page 32, 13th November 1942 —
OPINIONS and O UERIES
Close
Keywords :
WELDING v. REPLACMENT OF WORN OR BROKEN PARTS
I WAS particularly interested-in Mr. C. W. Brett's letter -11 of October 16 regarding the repair of worn and damaged parts.
After a visit to the M. of W.T. demonstration on the above subject, like many more, I became an enthusiast in the cause of repairing worn parts, but in actual practice I find it very difficult to be so enthusiastic after the following experience.
A 5-tonner cylinder block was cracked in the water jacket and through the bore ; after inspection by the local M of W.T. examiner it was sent, at the end of February, to a welder for report and repair. After considerable delay, it was returned as a successful repair job, but when erected was found to be faulty. It has had to be returned twice since and is still, to date, unsuccessful.
Whilst I appreciate the efforts that may have been put into this job with a view to salvage and the war effort, what , an unfortunate situation for an operator to be faced with in these days of shortage of vehicles and repair labour, to be saddled with the loss of a valuable vehicle for eight months, plus the work of dismantling and re-erecting the engine three times, and into the bargain being faced with the hire of an alternative vehicle; Had a new block been forthcoming in February there would have been a saving not only in cost, labour and patience, but the hire vehicle would have been available
for other essential service, • H. N. LEPRA M Kingswood, Watford.
THE letter from Mr. Brett in your issue of October 16 is not very agreeable to me.
Being connected with -the maintenance of several lorries, my whole-hearted support is given to saving parts by repair when possible. Your footnote agrees with this policy, adding that in the past this might not have been an economic proposition. Neither is it at the present time.
I have sent several broken parts to various welders and in nearly all cases the cost of repair has been more than that of a new part.
As an expert, perhaps Mr. Brett can explain why it costs more to weld an almost imperceptible crack in a cylinder head than the cost of a new head.
I strongly disagree with his suggestion that "it would be far wiser to refuse to supply any spare parts so long as a trustworthy repair by scientific welders is possible" unless firm control be exercised on the charges for repairing, otherwise "scientific welders" would be sitting more pretty than they are at present.
I still save all parts capable of repair or building up in the hope that one day an economicrepair will be
possible. L. M. COLLYER. Bognor Regis.
THE PROVISION OF "AIR" ON THE ROAD lkil'AY I be permitted to reply to your correspondent, Mr. C. E. Parker, whose letter you published on October 30?
He states that underinflation is the main reason for the great majority of tyre troubles, but he does not mention overloading. From experience gained over many years, prior to and since being appointed as an Authorized Tyre Depot, I have found overloading to be the main cause of tyre failures. When this is coupled with underinflation the results are simply disastrous.. Mr. Parker, with his years of experience as a longdistance driver, must have seen innumerable cases where, for instance, 50-cwt. U.W. vehicles equipped with 32 by 6 tyres (often truck type) have been carrying loads of 6 tons and over (larger vehicles correspondingly included). This is an every-day occurrence and whilst, before the rubber shortage, a tyre or so burst through overloading did not unduly worry this type of operator —possibly he found it paid him to overload—it is now a very serious matter and operators persisting in exceeding "load per axle" figures recommended by tyre manufacturers, thereby " wasting " tyres, should be treated as saboteurs and ruthlessly punished. However, to come to Mr. Parker's main grouse, re the difficulties of obtaining air en route. He .has evidently not given this matter very great thought, for, being an operator, . he must know that there are some 1,500 Authorized Tyre Depots in readily accessible positions situated throughout the country. The majority of them, I feel sure, would be most willing to provide air service at a nominal charge. Surely he could instruct his drivers to call at such depots?
Most definitely "free air ". at filling stations has
become a thing of the past, and rightly so. This obnoxious system, nothing leAs than a form of price cUtting, was inaugurated by the " super " filling stations, in an endeavour to encourage the "car owner" from the smaller garage by offering "something for nothing." It was never intended, in the majority of cases, to cater for the needs of goods vehicles, other than light ones, because goods-vehicle operators on long-distance work were never customers of filling stations, but bought all tyres and accessories direct or through factors and obtained petrol or oil fuel from the depots of the various oil companies.
How, then, can Mr. Parker reasonably expect such "dirt cheap" service as he advocates? Filling stations and garages have been badly hit by fuel rationing and labour shortage. They most certainly cannot afford to provide labour and equipment, costing anything up to £1,25, to supply free air to perhaps one or two vehicles a day that may call and block their "pull-in" for any thing up to 15 minutes. ' H. B. Grnav. Barry.
A PLEA TO HAULIERS TO GET TOGETHER WHILST agreeing with the comments of Mr. L.H.L., " Preston, published in your issue dated October 30, it is difficult to know how the haulage industry stands now that much of it is to be taken over by the Government.
It seems that more haulage will be done by the rail
ways and that their sidings will be crammed with goods. This is not a satisfactory position in war time. If the railways again suffer to any large extent from enemy activity, much of the burden will have to be thrown suddenly on to road transport which might, by then, not be in a fit state to acconimodate the traffic if the vehicles and personnel be allowed to deteriorate.
I quite agree that the railways carry much that road transport could not handle or does not wish to do so, but I have seen examples of valuable goods and .urgent war material, food, etc., badly damaged during shunting, whilst factories have been held up through the material they require being kept on railway sidings for several days. The result has been that supplies have had to ba rushed down to them by road.
It is, I quite understand, necessary to save rubber, but there are other ways in which this can be done. For example, only a day or two ago, in a London cemetery, I saw a 20 h.p. car carrying two women who were directing a gardener how to arrange a pot of flowers on a gra:5;e ; yet there were buses running just outside the gates and giving a service every few minutes. Then, again, is it still necessary to employ so many police cars when there are plenty of police boxes and other telephones about? Surely these vehicles could be kept in readiness and not used merely for trapsing about the streets or trapping lorries which are doing their bit towards the war effort? If trapping has to be resorted to, it is not essential to do this by motor.
We are all in this together, so cut out the dodging and' use road transport where it ought to be employed. It is a great asset in the war effort, but is handicapped by officialdom at every turn. Perhaps, this is because there are still square pegs in round holes. Where are all you haulage proprietors that fOU let your business slip away from you? You work hard to build it up, then, so far as I can see, you appear to come to the conclusion that as so much is coming in each week, things ean be taken easily. Meanwhile, someone slips in like a ferret and steals your traffic. If a driver makes a mistake, you are down on him like a .ton of bricks, but what of yourselves? What' of that co-operation between you for which many have been pleading for years? Why do you not get together and arrange for more' satisfactory rates and better 'conditions for your. employees?
With reference to the Government scheme for taking over some ,25,000 vehicles, I wbuld like to ask whether the drivers will be the men who have done nothing else but lorry driving for their livinag and have many years of experience, or are new men to be, put into their seats? Hauliers and officials Should realize that experience counts and can do more than anything else to help
in promoting economy. E.. E. CARTER. Lichfield.