Educating Operators Up * to
13th November 1942
Page 28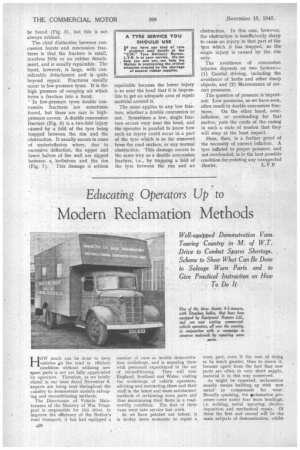 Page 29
Page 28, 13th November 1942 —
Educating Operators Up * to
Close
Modern Reclamation Methods
Well-equipped Demonstration Vans. Touring Country in M. of W.T. Drive to Combat Spares Shortage. Scheme to Show What Can Be Done to Salvage Worn Parts and to Give Practical Instruction on How To Do It
HOW much can be done to keep vehicles Qn the road in efficient condition without utilizing new spare parts is not yet hilly Appreciated by operators. Therefore, as we briefly stated in our issue dated November 6, experts are being sent throughout the country to demonstrate modern salvaging and reconditioning methods.
The Directorate Of Vehicle Maintenance of the Ministry of War Transport is responsible for this drive to improve the efficiency of the Nation's road transport: it has had equipped a
number cif vans as mobile demonstration workshops, and is manning them with personnel experienced in the art of reconditioning. They will tour England, Scotland and Wales, visiting the workshops of vehicle operators, advising and instructing them and their staff in the latest and most satisfactory methods of reclaiming worn parts and thus maintaining their fleets in a roadworthy condition. The first of these vans went into service last week.
As we have pointed out before, it is to-day more economic to repair a.
worn part, even lf the cost of doing so be much greater, than to renew it, because apart from the fact that new parts are often in very short supply, material is in this way conserved.
As might be expected, reclamation usually means building up with new metalto compensate for wear. Broadly speaking, the fclamation processes come under four main headings, i.e. welding, metal spraying, electrodeposition and mechanical repair. Of these the first and second will be the main subjects of demonstration, whilst
so far as the remainclz-r are concerned specimens of repairs effected by both electro chemical deposition and mechanical means will be carried in the vans, and exhibited to engineers, maintenance staff, etc.
Regional Maintenance Officers, who are well acquainted with the operators in their districts, and have current knowledge of the state of the vehicles in their fleets and of their maintenance problems, will take the initiative in obtaining the service of the Ministry of War Transport Vehicle Parts Reconditioning Demonstration Units, as the outfits are described, whilst the tours will be planned between the Directorate of Vehicle. Maintenance and the Regional Maintenance Officers.
Each van has a demonstrator who has been specially instructed in the latest techniques of reclamation, and a driver, whilst the vehicle itself is equipped with suitable apparatus. Austin 4-5-ton chassis are used with Strachan bodywork, whilst the compressing equipment has been installed, and some of it supplied, by Equipment Repairs, Ltd., Alperton Viaduct, Alperton, Middlesex.
Representative selections of parts that have been repaired by the several means named above have been kindly provided by a number of vehicle operators, notably the London Pasienger Transport Board.
In each van there is an Austin 7 hp. engine to supply poiyer for a lathe and air compressor, and it is of interest that all of these engines are reconditioned units retrieved from scrap vehicles. The lathe we inspected is a 44-in, machine by the Pools Tool Co., Ltd. Its purpose is primarily for preparing suitable parts for metal deposition by the turning of a fine thread having a rough finish, thereby creating a " key " to promote maximum adherence of the sprayed metal.
The small engine installed in the van has it own ignition system, but does not run an additional dynamo for van interior lighting or other purposes in connection with the demonstration— heating a soldering iron for example. For such requirements the vehicle dynamo and accumulators are used and provide an adequate supply of current.
Two of the compressing plants are Manley 20-cubic-ft. units, whilst the third is a Tecalemit two-stage 18-cubic-ft, outfit. These provide highpressure air for operating the metalspraying pistols. Metal-spraying equipment has been provided by Metallisation, Ltd.. Dudley. For demonstrating welding each van carries oxy-acetylene apparatus, the equipment used being provided respectively by the British Oxygen Co., Ltd., Thorn and Hoddle, Ltd., and C. S. Milne and Co., Ltd. A variety of makes of welding rods and fluxes is used.
Demonstrations of electro-deposition cannot, of course, be given, but operators will be advised to which parts this method may be most successfully applied, and told the names of concerns which are in a position to undertake the work.
Among the specinfen repaired parts may be named a wheel hub built up by copper spraying at the part housing the bearing, with the copper cut away to show the thickness of the deposit and the rough turning for its reception: a camshaft with the cams built up by gas welding, cast-iron rod being used. and hardened by quenching (some of the cams are seen in a finished state, others after welding, and the remainder in the original worn condition) ; a valve rocker with ends repaired by cast-iron
or SteHite welding; a steering king pin after treatment by_electro-deposition of chromium.
These are only a few typical items from the considerable selection of examples on view.
It is unwise to generalize on the most suitable form the reclamation should take as so much depends upon the circumstances and the urgency with which the part is needed. It has been considered, however, that gas welding is the method which can be most generally employed, because a blowpipe. together with oxygen and acetylene gas, is available in most seasonably well-equipped repair establishments, and therefore the basis of salvage methods is already there. In those cases where heat treatment might be seriously affected by welding, metal
spraying and electro-chemical deposition are naturally the alternatives. Such repairs as we have enumerated may easily render the reclaimed part actually superior to a new one.
It must not he thought that the demonstrations are confined exclusively to these processes. Practical advice is given on all the manifold repairing operations that come within the field of commercial-motor engineering. Just to mention one, we were shown how, by ordinary low-temperature soldering, one sound radiator tube can easily be made up out of two broken tubes, and one radiator tube, damaged in the centre; repaired by sweating on a short length of tubing.
Nor do we wish to give the imprc3sion that road-transport maintenance engineers are lacking in knowledge or resourcefulness in undertaking practical repair work. They certainly are not. but so greatly has the scope of metal deposition widened recently that only specialists can keep abreast of progress.